On a High Note
Reflections on Four Years as a Marching Dragon
I have often described myself not as a band kid, but as a kid in band. You know the stereotypical kid I'm talking about, always loud and being weird. Then I realized something. These "band kids" have been a major part of my life for the last six years; almost half my entire time of being in school I have been in band, marching band especially. Nine hours of rehearsal every week from the beginning of school through Oct. 22, as well as band camp 8 a.m. to 5 p.m. for a week and two days. All in all, I have definitely spent over a month of my life marching, playing, and being around all of the so-called "band kids." 
We would not have won state in 2019, 2020, or gotten fourth last year without both groups of people. Marching band is the perfect dichotomy, and that is one of the reasons why I love it so much. The individual aspect is important; knowing where you're going and how to play the music. But the ensemble is just as essential in making a great show; how the forms look and the general effect of the visuals and music. All of these need to be flawless. Everyone doesn't have to be best friends, but the band needs to get along. Even the kids in band have to like the band kids.
On October 8, at the Elkhorn Sounds of Excellence competition, our winning streak was taken by the Papillion-La Vista South Marching Titans with their show entitled "Beep Beep." They got every caption award (Best Guard, Best Effect, Best Marching, Best Visual), except for Best Percussion. Nonetheless, we lost by a small amount, and we improved by seven points since our last competition. Still, that was our first loss. The fact that we beat them in prelims only for them to come back did not make the loss easier. Also, Alexander Woodside, our director, was not present due to his wife going into labor. While it is nice to think that nothing would have changed if he was there or not, that is most likely not the case.
We are working harder, even more than we have been. With only one full week of rehearsal left, and that time quickly declining, it is to the point in the season for tedious rehearsals. We are doing repetitions and repetitions of drill with our directors telling us how we can improve each time. For the last three weeks of marching season, we have rehearsals at 7 a.m. on Thursday as well, and many sections come in on Thursday night for an hour or two to refine even more.
The mission statement of the Gretna Band states our core values of discipline, respect, integrity and maximizing our potential. I believe that we have upheld these tenets, and then some. There is no place I would rather be on Friday night than in the stands playing with my friends or on the football field, telling a story through music and movement. Band has given me friendships and has taught me responsibility and accountability. In return, I have sacrificed my time and energy, but there is no doubt it was worth it. Regardless of our placement at state, I will never forget my time as a Marching Dragon along with all the highs and lows of both varsity seasons I was fortunate enough to be a part of. 
Leave a Comment
About the Writer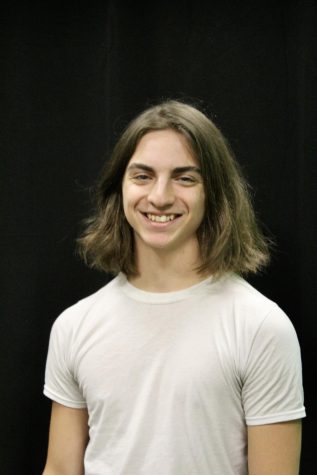 Nick Goblirsch, Reporter
Nick Goblirsch is a senior, and in his first year on The Dragon staff. He is a reporter who enjoys journalism because it gives him a way to have people...