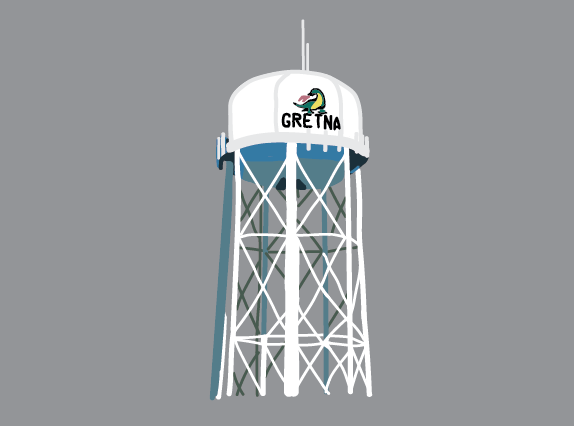 My senior year is one that is completely different and unique compared to the countless others' that preceded me in this district. Gretna now has two high schools, but only one senior class. We remain at GHS. What follows are my thoughts and thanks about/to my class, this school, and our community.
•••
Dear Gretna,
Oh, what I would give to go back and do it all again. To start at the beginning, on that very first Back-to-School Night in kindergarten. It was the night you officially adopted me as your own. After bribing me with a Hershey's kiss and a couple of Starbursts, you finally got me to the point where I could quietly utter a small "hello" in response to your bright smile. You embraced and accepted that timid little six year-old, telling me from the start that I could be anything I wanted to be. Throughout the next couple years, you taught me how to read and write, how to tell time and understand fractions, but, most importantly, you taught me what it meant to be a kid.
I look back on my first few years of elementary school as some of my fondest memories. They were the peak of my happy little childhood. The laughter that filled your halls and the countless smiling faces, they created special bonds between my classmates and me. As we moved through the years, you celebrated us with all of the choir concerts, holiday parties and recess soccer games. I like to think of those times as the "good old days." You made sure we were well taken care of and always in good company with the people around us. Even after we moved to middle school, you helped us find a sense of belonging within your walls and the community.
That feeling of home presented itself in the form of the green, fire-breathing reptile plastered on every wall, window and water tower. For as long as I can remember, I've been a Dragon. I grew up going to the high school football games with my family, cheering you on through each of the wins and losses. My friends and I made the trip down to Lincoln in seventh grade to support you and the back-to-back state basketball champions. In the years since, my voice has been lost on countless occasions after I've cried, yelled and shouted your praises from the sidelines. It was an honor to defend your name when I finally got the chance to wear it across my chest as a freshman on the softball field. I found a sense of pride in rallying behind you and everything you stood for.
My junior year of high school turned into the last one of normalcy. We navigated your crowded halls knowing there were only a few short months until almost half of the school left. I knew that my class would stay together for our senior year, but the friendships we'd made with those in grades below us were being torn apart. What's worse is that you were being torn apart. As I aged, I realized the true meaning of a community and how impactful having the right one behind you could be. We were all Dragons before, but now everyone is being forced to pick a side. For so many, your beautiful green hue has been traded for the black, silver and gold of Gretna East High School. Despite this, I'm holding on for dear life as I continue to plaster on a smile and pretend I'm okay with all of the change.
So now here I am as a senior, sitting in a Dual Credit Composition class, writing this. It's crazy how far we've come together. Your warm hug has been the backbone of my youth, picking me up each time I fall or fail and brushing off my scraped knees. You greeted me on that first night with arms open wide and held on tight for thirteen wonderful years, never once loosening your grip. Soon it will be time to let go and end that embrace, because soon, I will be gone. My only request, my one small ask, please don't forget about me while I'm away.
With all my love and gratitude,
Ava Fuller