Winnie is Here to Help
Therapy dog assists in many ways
Many people at GHS have a lot on their minds. Trying to balance school, work and a social life, it can get very stressful. Some students like to relieve their stress by going and visiting Winnie, the therapy dog in the Counseling Office.
Winnie is a two-year-old Cavapoo, and she is certified in dog therapy. Mrs. Melissa Ryan, one of the counselors, brings Winnie every Monday and Thursday to help brighten students' day.
"We went through obedience training and then therapy dog training," Mrs. Ryan said. She has a group that she goes to that is called 'Paws for Friendship' and that is the group that she is certified through."
"Paws for Friendship" was founded 30 years ago in Omaha. It is now a non-profit organization that travels across the United States and Canada. Winnie learned from one of the best therapy dog organizations in the metro area. She wears a badge on her vest that is from "Paws for Friendship."
"She's actually pretty calm when she is at work, but then sometimes when she is not at work then she goes a little bit crazy," said Mrs. Ryan. "My brother works here, and when she sees him she will jump up on him but she will not jump up on anyone else."
Winnie knows when it is time to get to work and set her playfulness aside, and she does what she knows best . . . she helps people. She knows to sense when a person is upset and will help provide comfort.
"A huge benefit is just a mood lift." Mrs. Ryan said. "Sometimes students just want to come in here and they play with Winnie for two minutes and they just feel better."
After two years of working at GHS, Winnie is a well-known source for students to go to when in need of help. Some students will go and see her even if they do not have a specific reason.
"I am a TA (Teacher's Assistant) for the guidance office," senior Kate Jarzynka said. "So every Monday and Thursday Winnie just puts a smile on my face when I go in and see her."
There are ten specific students' who make sure they come on Monday and Thursday so they can visit Winnie. Everyone else who comes in on those days can also benefit from her comfort and understanding.
"One of my favorite quotes about her was a student who said, 'her eyes are just so understanding,' and I think that's really accurate," Mrs. Ryan said.
Winnie may not be able to always interpret exactly what students are saying and going through, but she uses her senses and knowledge to provide the best care for whoever needs her help at GHS.
Leave a Comment
About the Writer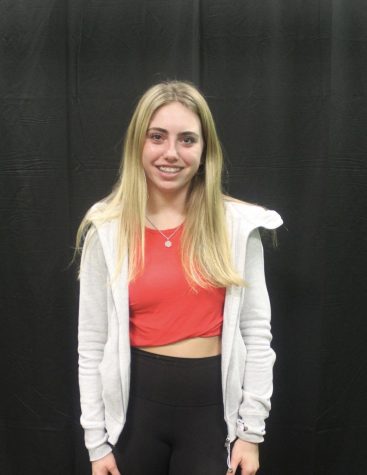 Harlee Boyd, Reporter
Harlee Boyd is a freshman at GHS and this is her first year with Gretna Media. She serves as a reporter. She is interested in journalism because she likes...