Swimming is More Than a Sport for Freshman
Dziuarwiec Started in the Pool in Kindergarten
For most swimmers, victory means the fastest time, first place or setting a new record, but for GHS swimmer Owen Dziurawiec, victory stands for something bigger.
Owen is a freshman at GHS enrolled in the Alternative Curriculum program. His lifelong passion for swimming led him to join the Gretna swim team this winter. With a lot of hard work and a strong group of supporters, he took first place in the Metros conference unified 50-meter freestyle, and made it to the high school state championship in that same event.
"Even when he was a baby, anytime there was a body of water he was always going towards it," Owen's mom, Tiffany Dziurawiec said. "He loves swimming."
Although Owen started swimming at a young age, his parents were hesitant about him joining the high school swim team. However, it quickly became clear that it was where he was meant to be.
"First we were nervous about him joining a high school team, but we were honestly elated at how he improved over the season," Mrs. Dziurawiec said. "Just seeing that he can be a part of a team and that he can push himself. There were a lot of happy emotions that he found something that he loved, and he was making friends in the process. You can tell that from when he started high school, and after a few swim practices, that his confidence really has taken off."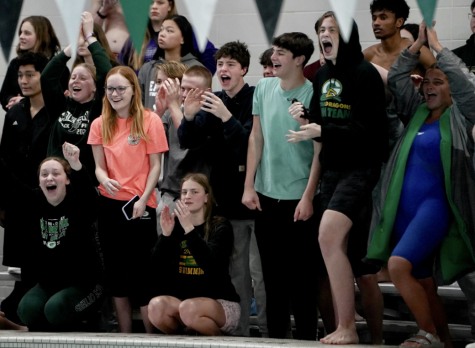 Swimming has been a large part of Owen's life. Starting in kindergarten with swimming lessons, up to competing on the Barracuda's Special Olympics team, Owen has enjoyed every aspect of it. But it has been more than just a fun sport to him.
"When he goes underneath the water, it kind of blocks out the world," Mrs. Dziurawiec said. "It is calming to him."
Swimming can be anxiety-inducing and mentally draining, especially on a high school swimming schedule. But instead of it being a source of stress, he utilizes it to his advantage in a sensory way.
While Owen's view of practice is that it is "good exercise." His routine, he said, is to "hang out with the team, Grace [Hauptman], the girls and the boys," while focusing on his "straight arms and kicking fast."
Despite all of his enthusiasm about his teammates and getting good exercise, his motivation for practicing is different. He likes to think of the impact he has on the team.
"I can get better and do better for the team," Owen said.
It was unanimous among the team that Owen made the team better. According to his teammates, he made the tiring practices less gloomy with his infectious smile and great attitude. Along with his genuine love for practice and his fellow swimmers, the person that saw this the most throughout the season was his coach, Allison Hall.
"He was a big asset to the team, his positivity towards the whole season, everyone gets cranky and he was always positive," Coach Hall said. "He made others smile and cheer up, and he was a good swimmer."
High school swimming is not only a big commitment, but it can be intimidating to some. Athletes end up swimming for the majority of the week's mornings and nights. With a large team, there are also many swimmers who are strangers to each other. But the team has made Owen feel completely a part of the team.
"He definitely feels included, and he knows people now, not that just went to his middle school," Mrs. Dziurawiec said. "He knows people across all grades."
On top of high school swimming boosting his confidence and helping him make new friends, it has helped Owen with lifelong hardships. Socializing being at the core of that struggle.
"For a while he struggled socially," Mrs. Dziurawiec said. "People were connected, if he saw a teacher outside of school, it would freak him out. He was used to seeing people in certain places, but now it's definitely better. When he's out and about and he sees people, he can say 'hi' and he doesn't want to run and hide. Swimming has definitely helped with that."
Even though swimming has boosted Owen's social skills, he has always been quite outgoing. He is quick to greet people or strike up a conversation. He is a friend to all.
"Basically, we always say Owen's never met a stranger," Mrs. Dziurawiec said. "He's always talking to someone."
Owen put in countless hours of hard work throughout his high school season. He practiced before the sun came up and after it went down for four months. For some, the grueling practice times and big commitment would turn them away, but Owen loved every minute of it, especially working with Coach Hall.
"She's funny," Owen Dziurawiec said. "She helps me a lot and she helps a lot on the team. I like it when she tells me where I need to go and when my events are."
Hall was there every step of the way. She was the last person he talked to before diving in and the first person he talked to after finishing his race. She coached him with a smile on her face the entire time and made a large, positive impact on his swimming experience.
On Feb. 11, at the Metro Conference meet, the Gretna swim team huddled together at the end of Dziurawiec's lane to cheer him on during his 50 freestyle. They screamed at the top of their lungs and jumped with massive smiles when he touched the wall in first place.
Owen put his head above water to be greeted by Coach Hall and loud cheers from his supporters. His smile beamed when he looked at the scoreboard.
"I thought about how I just won, and I thought about the award I was going to win," Owen said.
Finishing with a personal record of 35.68 seconds, his first-place win was one of the greatest moments of his swimming career thus far. It evoked happiness, excitement and great pride for himself as well as everyone around him.
"It made me want to cry," Coach Hall said. "I was so proud and his hard work paid off."
This win was especially astonishing for Owen's parents and family that have been supporting his swimming career throughout his entire life. They saw that their son's hard work and effort paid off.
"The proudest moment as a parent was at Metros," Mrs. Dziurawiec said. "He was super excited to come to find us in the crowd and show off his certificate. We had some family members come to cheer him on so he was super excited to see his family in the crowd."
Owen's Metros win was more than a win for just himself. It was a win for Coach Hall, his family and the entire Gretna team. His longtime love for swimming may have been the thing keeping Owen going throughout the season, but the people around him helped motivate and encourage him.
Although the swim team, his parents, and his Coach made a massive impact on his swimming experience, it was no mystery that Owen was the one putting in the hard work to improve. His monumental progress this season was all because of his determination. Improving not just in the water, but socially too. Eventhough his Metros win was shared and celebrated by many, he proved, all by himself, that triumphs can go beyond winning first place.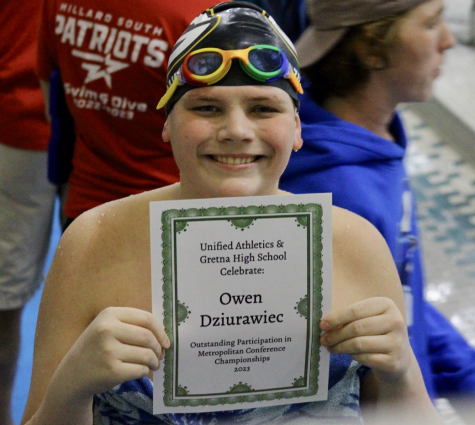 Leave a Comment
About the Contributor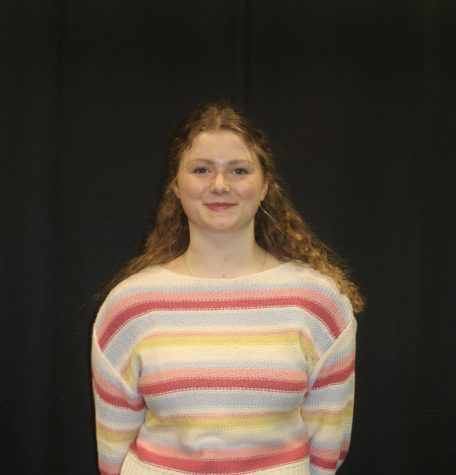 Madie Petrick, Reporter
Madie Petrick is a freshman at GHS and this is her first year with Gretna Media. She is interested in journalism because she loves to write and has always...