Lights, Camera, Action!
Performers share secrets for how they really do it
An arts program's success is solely due to the performers themselves. Participating in the band, choir, musical, or any other performing art takes a toll on those who are performing; therefore, it is important to have a solid routine to help manage everything.
"Before performances, we warm up by running the areas of our show that we feel need the most review or improvement for the performance," Revolution member Kaileigh Zollman said. "We also have traditions like our 'We are Revolution' chant before we go on stage."
Rehearsal for "Shrek The Musical" started on March 1, so that means that the cast had 58 days in total to memorize their lines, songs, and dances. They worked many hours for 3 performances (you will want to find out how many performances there will be).
"To warm up for performances, I typically will play music from the show to remind myself of notes and the moods present in the production," senior musical cast member Chuck Sams said. "Following, once I am in costume and makeup, I will meditate and imagine myself as my character. This mentally prepares me to fully experience the story on stage. Funny enough, I am so aligned with my character afterward that I blackout when I'm on stage."
Practices are the backbone of most performances and when it comes to show choir they practice for semesters rather than just weeks like musicals. So the bulk of what they do in class is practicing their dances and songs so much that it is practically second nature to Revolution/Evolution members.
"Once school starts, we spend the entire first semester in hours of rehearsals in order to get the show put together," Zollman explained. "When it comes time for a competition, we are at the hosting school all day, leaving us a few hours to get ready. I like to start anywhere from 2-4 hours before we need to be stage ready in order to get my makeup and hair ready on time. I also usually do vocal warmups and breathing exercises in order to get in the right headspace on my own."
The New York Times described muscle memory as a sequence of movements that is thoroughly mapped through the brain. Memorizing is something that performers know all too well; it makes sure that they do not mess up when eventually on stage.
"There are many tricks that can help with memorization, with scripts the best thing to do is just run scenes over in your head and on your own, the same thing goes with dances," junior cast member Logan Davidson said. "Practice always makes perfect."
Overall any of the performing arts are a joy to be in and create a loving and caring community. It is important to practice and have certain tricks to help memorize scripts/material.
"If you're an underclassman and scared to try out for show choir, musical, and one-act, do it anyway," Zollman said. "Performing is one of the best ways to express yourself and find the best friends in the world."
Leave a Comment
About the Contributor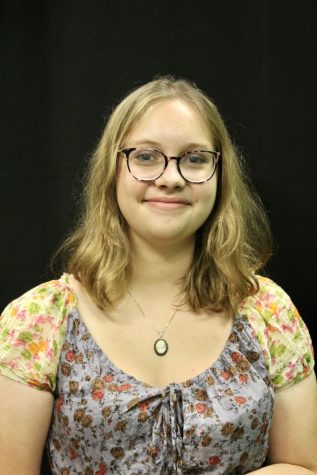 Onnika Moore, Reporter
Onnika Moore is a sophomore at GHS and is in her second year in the journalism program. She serves as a reporter for Gretna Media. She is involved in journalism...