From Pencil To Puck
Sacrifice Made On and Off the Ice
Hard work would be enough to make some give up, but sophomore Calie Peterson is determined to end up victorious in the sport she loves playing. From roughly 12-15 hours in practice and conditioning on weekdays, allowing tournaments to be held on weekends, to schoolwork and time with friends, she sets her goals and puts in the time to meet them."Calie is a busy, busy girl," Mrs. Stacy Peterson said. "She has off-ice conditioning a couple of times a week as well as on-ice practice two to three times a week. She also squeezes in private coaching lessons once a week if she can. That is not always feasible with her school workload or hockey games. She attends college recruiting showcases throughout the year and all summer long for exposure to NCAA and ACHA coaches, as well as attending training camps and combines where college scouts will be recruiting from."
As a member of the Madison Capitols AAA traveling team, C. Peterson must still follow the accountability policy like all GHS students. She communicates her absences with her teachers and presents characteristics that she uses on and off the ice on a daily basis.
"Calie is good about communicating her absences ahead of time which is tremendously helpful for me," science instructor Mr. Jacob Klein said. "By knowing someone will be gone in advance it allows me to get work to them ahead of time or make a plan to help them get caught up once they return. Calie takes initiative and responsibility for her academics which could very easily translate into her performance in hockey. Athletes have to show discipline in their training and conditioning to perform at a high level and this is no different when it comes to academic performance."
C. Peterson is also trying her best to fulfill her life goals with hockey by taking opportunities that are presented to her, such as moving to a higher-level team. By doing this, she is setting herself up for the best possible success in the future.
"My future goals for hockey are to play in college and maybe even for the national team," C. Peterson said. "Right now I'm in my sophomore season so this summer I'll be able to talk to D1 schools. This is my first year playing AAA hockey, I was playing AA, and I am loving the competition and the drive it gives me to play with my new team."
Playing hockey at this high of a level comes with responsibilities that most kids do not have to think about. According to the Madison Capitol's website, Tier 1 hockey, which includes AAA, is the highest level of competitive youth hockey dedicated to providing a high level of competition and developing players to their full potential. C. Peterson and her mom carefully plan out their time and have their own rituals to go through before games and travel.
"Generally we have an eight-hour drive or flight to catch the day before our first game," Mrs. Peterson said. "Calie is usually doing her homework online during the trip. The night before the tourney starts, it's lights out by 10:00 pm as hockey game times can begin at 7 am. The girls need to arrive at the rink an hour to an hour and a half before game time. This is their stretching, warm-up and chalk talk time to prepare for the opponent. Games last about an hour to an hour and a half. After a game, it's a 15-minute cool-down and stretching period. Then it's time to replenish calories. There is no fried food or sodas on hockey weekends. Ideally, there are a couple of hours in between game times so Calie likes to sleep or relax for an hour if she can. At night, it's study and or homework time. But Calie wouldn't have it any other way. It's her passion and what makes her smile."
As she continues to sacrifice each and every day, C. Peterson is determined to achieve all of her goals. She has a busy schedule, but she manages everything from the perfect hockey routine to finish her homework on time.
Leave a Comment
About the Contributor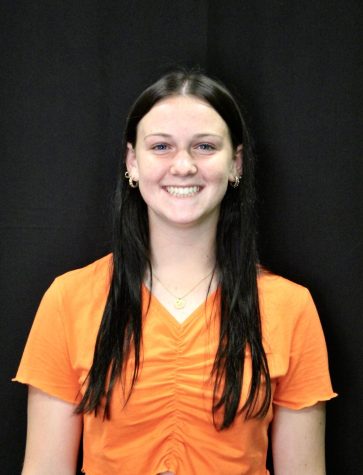 Ansley Gydesen, Co-editor Gretna Media
Ansley Gydesen is a senior at GHS and in her fourth year of being involved with Gretna Media. She is involved in journalism because she thinks it is a...