The Influence of Fashion
Social Media Trends Impacting Thrifting, Styles
The frequently used social media platforms Pinterest, Instagram and Tik Tok are responsible for launching many trends. As the new year has set in, many popular clothing trends such as monochrome, layering and animal prints have become very fashionable. Senior Faith Polivanov has been following some of these well-known trends.
"Lately, I have been popping the collar undershirts, wearing mock necks, and especially hair claws," Polivanov said. "I learned about some fashion trends through TikTok, but Pinterest is where I usually keep in touch with the fashion industry."
Although social media apps like Tik Tok have been influencing the fashion industry, Pinterest and Instagram are also commonly used places to find fashion inspiration. Students like senior Lilliana Kinnan mainly find pieces of clothing that fit her style through Pinterest and thrifting.
"I get most of my fashion inspiration through apps like Tik Tok, Pinterest, and some influencers I follow on Instagram," Kinnan said. "I thrift almost all of my clothes and Goodwill is my go-to. I also frequent garage sales in the summer. I enjoy thrifting because it is fun to find abstract pieces and also more classic items all for an unbeatable price. It helps me to be able to change up my style often because I don't have to spend outrageous amounts of money to do so."
Kinnan has only been thrifting for a few years, but other students, like senior Zoey Schultz, have been thrifting since they were kids, long before the rise of popular apps like Tik Tok. However, students like Kinnan and Schultz started thrifting at different times, their experiences thrifting are different.
"I've been thrifting since I was a kid," Schultz said. "My mom went a lot so I would go with her before I was even interested in fashion. I used to thrift very often and had a lot of luck finding good pieces, but now that it's a trend, a lot of thrift stores near me are very picked over so it's a bit harder. Don't get me wrong, though; I think everyone should thrift since it's better for the environment."
Thrifting can be a great way to save clothing and still make it fashionable. Thrifting is more friendly to the environment because it provides a way to reuse clothing in a fashionable way. Although it can be a little more difficult to find likable and trendy pieces, it is a great way to express certain fashion styles. Students like senior Aysha Ridley express themselves through their clothing.
"There's so many different subcultures of styles and I love it," Ridley said. "Anything and everything to me is considered trendy. Many people come up to me and say, 'I wish I was brave enough to wear that' or 'I love your outfit, I wish I could pull that off,' Wear whatever you want, you'll be so much happier and confident when expressing yourself through your clothing!"
Apps like Tik Tok, Instagram and Pinterest are creative ways to discover new trends and explore different styles. Thrifting has also made its way into the fashion industry by reusing and recycling clothing to create new and interesting trends. Whether it is from social media or a local thrift store, the fashion industry is always finding new ways to express creativity.
Leave a Comment
About the Contributor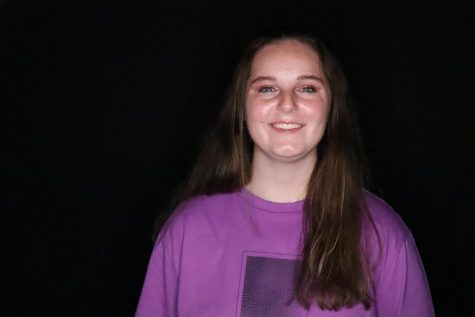 Lauren Eurich, Design Editor
Lauren Eurich is a senior at GHS and in her third year on The Voice staff. She serves as the design editor. She is involved in journalism because she has...