The Power of Diana Prince
"Wonder Woman 1984" Highlights the Future of Cinema
I was looking forward to 2020 because it was supposed to be a big year for superhero movies. Marvel's "Black Widow" was planned to be released in May and "Wonder Woman 1984" in June. Then, production was put on hold due to COVID-19. DC Studios continually changed their plans due to the pandemic. After seven delays, "Wonder Woman 1984" was released on December 25. "Black Widow" was pushed to May 2021, but that could change. As a huge superhero fan, I was ecstatic to get at least one superhero movie in 2020.
"Wonder Woman 1984" was available in theatres or on HBO Max. It was an interesting experience to see a much anticipated movie from the comfort of my couch. As the title says, the film takes place in 1984; 66 years after the first movie. Gal Gadot plays Diana Prince who works for the Smithsonian and saves lives as Wonder Woman.
The film begins with a flashback to Diana's youth on Themyscira, the island home of the Amazon Warriors. She competes in a challenge that rivaled the stunts done on "American Ninja Warrior." Back in 1984, Kristen Wiig's character, Barbara Minerva, was introduced. I am familiar with Wiig's tenure on "Saturday Night Live," so it was a bit hard to take Wiig seriously as a villain. However, before she turned evil, she played a socially awkward nerd well. Pedro Pascal played businessman Max Lord, who became mad with power. He teamed up with Barbara to take over the world with wishes and false hope. Diana's power was no match for the mediocre villains in the film. Even during her weakest moments, she outshined them as she believed in the power of the truth.
The film stayed true to the comics, for the most part, which I appreciated. There is even an appearance from the infamous Invisible Jet. One goal director Patty Jenkins had was to use the least amount of computer-generated imagery (CGI) possible. This was refreshing to see, especially since the small amount of CGI in the film was subpar. To accomplish this goal, actors trained for fighting and action scenes that were well choreographed and executed.
The film takes place in the 1980's and encapsulated the culture well. The eighties is one of my favorite decades and it was fun to see the iconic fashion in the film. Diana's love interest, Steve Trevor, died in"Wonder Woman" yet he magically reappeared. One of my favorite recurring moments in the film was Steve's awe at 80's advancements. There is even a montage of him trying new outfits. However, I was disappointed with the music. I was hoping for a variety of 80's music in the film since the trailer was paired with an awesome remix of New Order's " Blue Monday."
Overall, I would give "Wonder Woman 1984" 4 out of 5 stars. It was a great film to watch over winter break. I will say I was a bit unsatisfied with the magical artifact that created the plotline. But, the action packed scenes and film progression made up for that. While I usually prefer Marvel to DC, I think this is one of my favorite DC films. Gadot's portrayal of Diana Prince will carry the legacy of DC into the future.
Leave a Comment
About the Contributor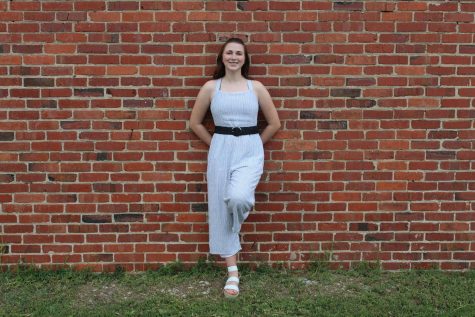 Delany Jepsen, Yearbook Editor in Chief
Delany Jepsen is a senior at GHS and the editor in chief of The Dragon yearbook after holding positions as a reporter, production manager, and clubs editor....