Admin Reports Rise In Cases
Virus Spreads as GHS Continues In-Person Learning
On Thursday, Sept. 3, the first email regarding COVID-19 was sent to students, parents and staff members. This email stated that two students tested positive for the virus. Since then, 10 more students have tested positive for the virus (total accumulated through additional case emails). Students who were exposed to infected individuals for more than 10 minutes without wearing a mask were sent home to quarantine for two weeks. The positive cases came from school activities and unidentified community sources.
"Critical times for COVID-19 exposure are before and after school in the school parking lots," assistant principal Mr. John Heckinlively said. "We have had a lot of kids get in their friends' cars and hangout with them for more than 10 minutes, but this is hard to trace. We have to rely on the students to be honest with us so that we can get a better handle on the virus."
The risk for disease transmission was also found inside of the cafeteria during lunch hours. For 30 minutes, students were exposed to one another while eating and talking; however, with contact tracing, the administrators were given a better understanding of this environment. This created an opportunity for situation control.
"We have multiple cameras inside the lunchroom that help us track down the location of students in the cafeteria," principal Todd Mueller said. "We usually quarantine the students who sit next to each other under a six-feet radius with the infected student(s) at the lunch tables more so than in other locations of the building; however, if another student is talking to an infected student with a mask on (both parties wearing masks), we won't quarantine that student."
According to an email sent out by GPS, students are recommended to eat their lunches within a 10-minute period. Alternatively, the email's recommendations suggest students only take off their masks when taking a bite or drink of something and then to immediately put it back on when done.
"The vast majority of kids that we have had to send home to quarantine have come into contact with somebody during lunch," principal Mr. Todd Mueller said. "We were hoping to prevent that with this email since most kids don't want to sit alone at lunch without their friends or be sent home to quarantine. This hopefully gave students the best of both worlds."
Students who either experience COVID-19 symptoms or are exposed to someone with the virus are required to head down to the triage center of the nurses' office. Here, they are directed to line-up while maintaining six-feet of space from one another awaiting on assistance from either of the two school nurses.
"We have a triage center where students have their temperature checked and are asked what their symptoms are prior to entering the main health office. Along with that, we have a secondary space for students that may be ill and/or questionable for COVID-19," nurse Mrs. Bridget Plathe said. "First, we assess symptoms and notify parents. We then have the students sit in our secondary health office away from others and go over what the health department's (Sarpy Cass County Health Department) recommendations are. Lastly, we document and make notifications. The day after the student has been sent home, we check up with them and give them additional steps on what to do."
When interacting with possible COVID-19 patients, both of the school nurses are required to wear masks and face shields to prevent them from contracting the virus. This year, the nurses' focus mainly revolves around keeping the school open.
"My job has completely changed as a school nurse," Mrs. Plathe said. "My main focus is on COVID-19 and keeping the school open."
Junior Ethan Menning was one of many students who was exposed to COVID-19. Until Sep. 22, Menning was required to attend online classes via Zoom. He felt bitter-sweet about learning this way, but was thankful that he only had to quarantine for two weeks.
"At first, I was really upset because I thought I was going to fall behind on schoolwork," Menning said. "Online school is harder than it would be like if I were in a classroom environment, but I was able to get used to it. I was only really upset about not being able to go to cross country and the other clubs I'm involved in."
As GHS continues in-person learning, more school attendees will be at risk for contracting COVID-19. In hopes to prevent this, the administration will continue on implementing strict contact tracing methods that will help control the spread of COVID-19 inside the school. Along with that, the administration will continue to keep up-to-date with the Sarpy Cass Health Department to see how the rest of the school year will play out.
Leave a Comment
About the Contributor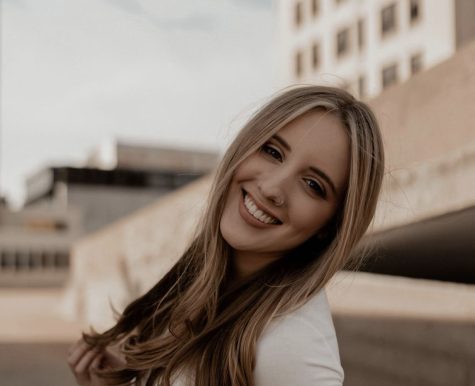 Kalei Renner, Yearbook Business & Advertising Manager
Kalei Renner is a senior at GHS and is in her first year on The Dragon staff; she serves as the Business and Advertising Manager. Prior to entering The...