Arts in Education
Students Create Their Own Show Choir Shows
Every year, the high school show choir has a different show theme. Since classes recently moved online, vocal instructor Mr. Brandon Shostak developed some creative assignments such as the show choir design project in which students were assigned to create their own show choir show. A show choir show is a complication of songs put together that usually have a theme. It is a performance in which people sing and dance to songs in full makeup and costumes.
"The reason why I assigned the show choir design project was to mainly get the perspective of the teenage mind in music and to get a broad range of ideas from the students," Shostak said. "When I am trying to design a show for the following years or to brainstorm, I rely on others to give me ideas. Sometimes bouncing around ideas creates a really good product."
Students such as junior Faith Polivanov struggled to come up with an idea for this project. It was not until a song she was listening to gave her an interesting idea.
"I was reluctant to get started and procrastinated a little bit," Polivanov said. "I didn't really brainstorm any ideas until a song came into my head. I was listening to "Every Breath You Take" by The Police and I decided to base the rest of my songs around that theme. The people in my group agreed that it was a good theme. I started searching for songs with similar themes of stalker-like vibes and obsessive love."
Other students such as junior Autumn Wessel took on this project alone. She decided to go with the theme of dreams.
"The ideas I brainstormed were what themes I could have and the songs that would work best for the design," Wessel said. "I made a final decision because of the idea I had behind it. The theme of my show was dreams. I chose dreams because no matter what, we can always achieve them and see them. I did the assignment by myself. The songs I looked at really helped inspire what my theme would be."
Students like Polivanov and Wessel brainstormed differently, yet both had distinct ideas. Shostak wanted to see students' ideas to get an idea of what students had in mind for possible future performances.
"The goal of the assignment is to hopefully put the student in the directors' seat of what Ribar and I do every year and to make them realize that it is not so easy to pick songs that work together in a flow," Mr. Shostak said. "Now, it would be one thing to take this assignment further and have them listen to the charts [the rhythm of the song] to see if it would actually work. Sometimes when we are deciding on charts, it is a total bomb and it doesn't work at all. Having that kind of failure along the way will be interesting to have. That is a part of the great process of finding a show when you are relying on other people. Right now I do not plan on using any of them for the fall, but again I have almost over 200 projects to go through."
Although this was a part of the learning process for choir students, it allowed the students an opportunity to share their voice while allowing an opportunity for teachers to learn from students. The assignment met its objective by providing an avenue for students to showcase their ideas in a creative way.
Leave a Comment
About the Contributor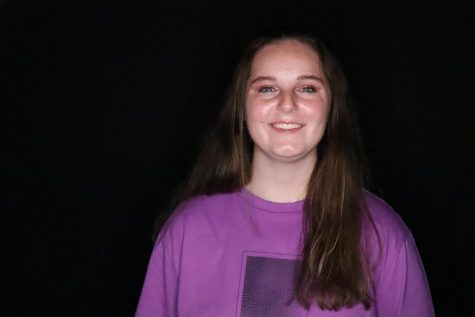 Lauren Eurich, Design Editor
Lauren Eurich is a senior at GHS and in her third year on The Voice staff. She serves as the design editor. She is involved in journalism because she has...