What Are Students Up To?
Keep Busy During Social Distancing
Schools are shut down all across the world, and students have an opinion about it. Some may like staying home and having their own schedule, while others miss seeing their friends every day and walking to classes together. Junior Hannah Rush is enjoying her time away from school and is trying to make something out of it. She stays productive by working out and trying to keep on a good schedule between work, school, and exercise.
"I work at Kids Round-Up every weekday," Rush said. "Since I am working when I am also supposed to be doing school work, I have to manage my time well. I basically do school work before I go to work and then workout after work."
Rush likes not having to go to school. She feels that having her own schedule is better than having to follow the school's schedule. Taking breaks between classes and being able to work more makes her feel more productive.
"I feel very productive not being in school," Rush said. "Every day I have gotten something done. I like doing e-learning because I can do the classes in the order that I want and I can work way more than I used to because it does not take as much time out of my days so I am making more money."
On the other hand, there are students who disagree with Rush's opinion on this new schedule. Junior Jayden Day does not like having to be home all of the time. His parents make him social distance and he does not enjoy being cooped up in his house every day.
"It is what it is," Day said. "I just feel like there's nothing left to do. I finish all of my schoolwork early because there isn't much of it, and my parents do not let me leave to go anywhere and everything is shut down anyway."
Day feels as though he is less productive during self-quarantine. He thinks the school work is not the same and doesn't take up as much time. He still enjoys being able to follow his own schedule, but he finds himself missing life before COVID-19.
"I miss my friends," Day said. "I miss being able to do regular things like go out to eat or something like that. I hate being cooped up in my house. I work at DJ's Dugout and that is closed, so I can't even work during this time. I know we all have to do it, but I wish none of this ever happened."
Whether students like self-quarantine or not, it is something that everyone is dealing with right now. Schools shutting down for a global pandemic has not happened in over a hundred years and students are having to adapt quickly because of it.
Leave a Comment
About the Contributor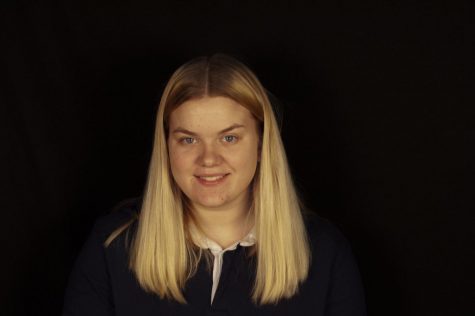 Peyton Rewczuk, Editor-In-Chief
Peyton Rewczuk is a junior at GHS and is in her second year on The Vanguard Staff. She serves as Editor-in-Chief. She is involved in journalism because...