Royal Read With Red Queen
Delany Shares Thoughts for Your Next Book
For my AR book second semester, I decided to reread "Red Queen" by Victoria Aveyard. I had read the series a few summers ago, and I vaguely remembered the plot, so I picked it up again. For anyone who is a fan of Ash Princess by Laura Sebastion or Throne of Glass, by Sarah J Mass, I recommend reading this novel.
"Red Queen" takes place in a war-torn future, with an oppressive monarchy. Mare Barrow is about to turn 18, and once that occurs, she will have to join the army in the war against the Lake Landers. Her family is poor, like many Reds. In the novel, there is a rift between those with red blood and silver blood. Silvers are royal and have special abilities\; therefore, it makes them better than the Reds.
All three of Mare's brothers are on the war front, and once her best friend Kilorn receives his transcript letter, she tries to find a way to escape. While she pickpockets her way through life, a surprise comes from a stranger, Cal. Surprises ensue once she gets a chance to work as a servant for the royal family. All while a mysterious rebel group, The Scarlet Guard has plans for the Silvers.
The action begins right away, and I appreciated the descriptiveness and detail behind the explanation of the village. You can feel how much disdain Mare has towards the Silvers, and how much she loves her family. The thought that anything worse could occur to them evokes Mare's thievery. I also enjoy how the plot is not too hard to follow, which makes this an easy weekend read. As she gets caught up in the royal drama you can tell that something eerie is going on, and the closer it gets towards the end, you won't know who to trust.
Mare reminds me a bit of Katniss Everdeen by the way she protects her family and looks after her little sister. What connected me to the book is the way it takes place in the future, yet has a medieval feel to it. Also, being the superhero geek that I am, I enjoyed reading about the Silver's superheroes. The relationship between Cal and Maven reminds me of Thor and Loki, except I like Loki way more than Maven.
Once I read it again, I remembered why I enjoyed it in the first place. With fast-paced action, interesting characters, awesome superpowers, and surprises on every page, I can't wait to read the next one. Any 7-12 grader would enjoy this book. Overall "Red Queen" deserves 5 out of 5 stars.
Leave a Comment
About the Contributor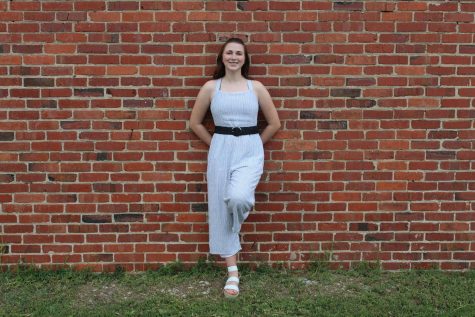 Delany Jepsen, Yearbook Editor in Chief
Delany Jepsen is a senior at GHS and the editor in chief of The Dragon yearbook after holding positions as a reporter, production manager, and clubs editor....