Small Businesses & Self-Expression
Craft Fair Serves as Post-Prom Fundraiser
A greatly anticipated local event, the craft fair took place on Oct. 2, and lasted several hours. Whether they are going to support small businesses, or if they are vendors, many people partook in this fundraiser. The fair this year was very well attended, especially because of the previous craft fair being canceled, setting a record for the amount of money raised.
"My favorite part about the craft fair is that I get a lot of feedback from people about why they like my stuff, or what I should change," jewelry vendor Ms. Ashlynn Wheeler said. "I love being able to make people happy by selling them my products."
For some small businesses, the only way that they sell their products is through the fair. Without this event, vendors would have fewer customers and would have a lot less publicity for their small businesses. Whereas other entrepreneurs sell their products elsewhere, like Etsy, Instagram shop, or other local outlets.
"I actually am a small business owner myself, and sell my baked goods from my parents' house," sophomore Audrey Wilcoxsen said. "I sell to friends, family or anyone who wants a special treat!"
A handful of people are interested in what other people are selling and enjoy being able to see what small businesses are selling. The vendors enjoy being able to tell their stories through the products that they're selling. The craft fair only gives people a glimpse of vendors' lives from the products they sell at their booths. What they don't see is some of the stories behind why people sell their products at the craft fair.
"I actually used to have a craft business in the 80s and I started to miss it," vintage product vendor Ms. Diana Weir said. "So when I retired I was inspired to attend the craft fair and do it again. I love the fact that every day is different, and I wanted to be able to support my habit which I had wanted to do ever since I stopped."
The craft fair is one of the best ways for small business owners to express themselves. The vendors at this fundraiser are very passionate about what they do and love being able to make other people happy about their products.
"My favorite part about the craft fair is probably just knowing that when I sell a piece, someone really loves and appreciates it," Ms. Weir said. "I love knowing that it goes to a good home and that it makes people happy."
People need some sort of hobby that they are passionate about, whether that hobby is crafting hand-made jewelry, selling vintage artifacts, or baking special treats. Many people find joy in this event whether they participate in it to sell things from their business, or are able to find ways to express themselves with the merchandise they buy, or just being able to tell the public one more chapter of their story through selling their products.
.
Leave a Comment
About the Contributor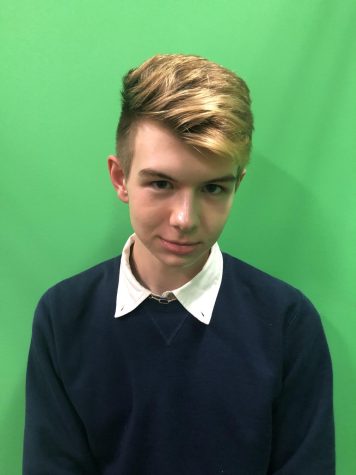 Jake Detten, Staff Reporter
Jake Detten is a sophmore at GHS, and this is his first year working on The Voice Staff. He loves working on the newspaper because he loves being able...