Hit The Ice
Calie Peterson Wins Cornhusker State Games Youth Female Athlete of the Year.
The Cornhusker State Games Female Athlete of the Year, is an award given to athletes that stand out, and work hard, and show real motivation. In Omaha, there are not many hockey teams, and overall the hockey programs are small compared to other states especially for girls. This can make finding the right team hard. Freshman Calie Peterson found a team that pushes her to become a talented player. Peterson started skating when she was three and started hockey when she was four. In the past 10 years her teams have won national awards. Peterson plays for the Omaha Lady Jr. Lancers and travels all around the Midwest from Minnesota, Michigan, Missouri, and Colorado.
"Omaha is not big on girls hockey it doesn't have a big program," Peterson said. "Omaha is not big enough and it is stupid that it is like that."
Ethan Peterson, C. Peterson's older brother, over the years has taught C. Peterson to overcome her fears. This work paid off when she was named the Female Athlete of the year. Peterson practices 3 times a week with her team. Her team also travels on most weekends.
"I think she is determined and very confident when playing. She knows when to pass and when not to pass, pretty much all of the things that should be done in the game," senior Rainna Daharsh said. "Calie is fearless and that's what makes her the way she is."
Daharsh met Peterson when she started dating Peterson's older brother. Since then, Daharsh has attended multiple games to watch her play. She has even traveled out of state to watch Peterson and cheer her on.
"When I first watched Calie play, I wished I would've played when I was younger," Daharsh said. "It's a fun sport and very competitive."
Peterson plays on a 19's team which is uncommon given she is only 15. Peterson has overcome many obstacles to compete at the level she is at now. When Peterson started she played on an all boys tem, but eventually switched to an all girls team. There were many things stopping her such as finding the right team, keeping up with school and enduring several concussions. Peterson has done a great job with all of these, she earned a spot on the 19u lady Jr. Lancers, she is on the honor roll at school, and still manages to stay safe while being a great competitor on and off the ice.
"There are many risks such as head injuries," Daharsh said. "Hockey can be dangerous, but if you play safe and correctly it's just like any other sport."
Although Peterson is a freshman, she is earning the attention of many D1 schools. She has not made any decisions about her future. She still has four years ahead of her before college, and there's no doubt she will make those years as good as in the past.
View Comments (1)
About the Contributor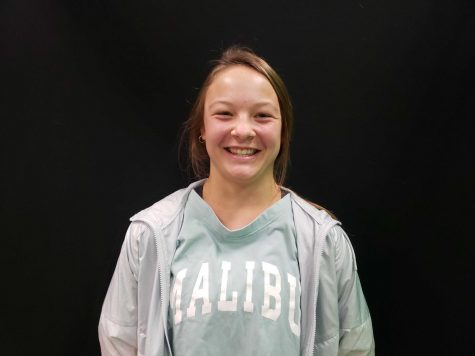 Klare Peters, Staff Reporter
Klare Peters is a freshman at GHS in her first year on The Voice Staff. She is involved in journalism because she feels it is important to state your opinion...