Carrying My Son's Baby
Lengths A Mother Will Go to For Her Son
As a mother, they want to do everything for their children, but it is uncommon to do what Cecile Eledge did for her son. Mrs. Cecile Eledge is the embodiment of that saying. She is a mom that would stop at nothing to make her son happy. At 61 years old, she carried her son's baby.
Mrs. Eledge's son, Mr. Matthew Eledge, was eager to have a baby with his husband, Mr. Elliot Dougherty. They found a surrogate who Matthew went to school with, and they were ready to start a family. Unfortunately, after running some tests, the surrogate was diagnosed with hypertension and was not a safe carrier. Mrs. Eledge did not hesitate to offer to be the surrogate for her son. 
"I never planned on being the surrogate," said Mrs. Eledge. "But I would do it again for you or your brother."
Mrs. Eledge attended many appointments to check if she was in the physical condition necessary to carry a baby. Luckily, her blood and physical health were in great condition. Everything was looking up for Mr. Eledge and Mr. Dougherty, but they not only worried about their unborn child, but their mother as well. Mr. Dougherty considered Mrs. Eledge his own mother because he lost his mother just a year prior. Mrs. Eledge became pregnant after the first procedure and the nine-month journey began. 
Mrs. Eledge and her family were relieved this whole pregnancy would stay within the family. Mr. Eledge's mother would carry the baby, and the egg came from Mr. Dougherty's sister. 
"They wanted the DNA of their own natural baby," said Mrs. Eledge. "They looked at buying eggs but it's very expensive. She stepped up to plate right away and she said she would be more than happy to donate eggs."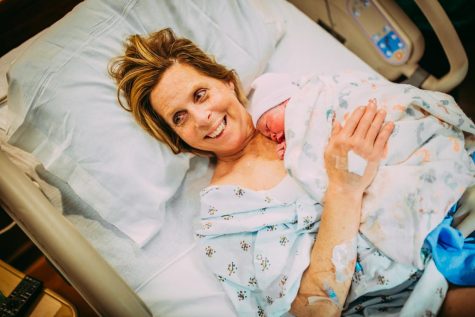 Towards the end of Mrs. Eledge's pregnancy, she started having complications with high blood pressure. She was able to control her hypertension, and when it was time to deliver, the birth was natural and without complications. 
Mr. Eldege and Mr. Dougherty decided to name their baby Uma Louise Eledge. Mr. Dougherty read a book by Uma Thurman's dad where he said he named his daughter Uma which means goddess of light. It was inspiring to Mr. Dougherty, and he knew he wanted to name his daughter Uma. Her middle name came from Mrs. Eledge.
"I hate my middle name, but they really wanted to contribute my name to their baby's name," said Mrs. Eledge. 
Having a baby at 61 was not easy for Mrs. Eledge, yet she beat the odds and was there when her family needed her. With the support of her family, Mrs. Eledge was able to give her son and his husband the best gift they could have asked for.