Out of the Frying Pan and Into the Fire
Prostart, Foods and Nutrition Curriculum Changed.
The decision to pursue online education in order to protect the health and well being of the Gretna community was necessary, however, for students, it is hard to overlook the dramatic changes in their everyday lives as a result of the COVID-19 outbreak. The biggest change for most youths has been the transition to a fully online based curriculum, and while this is a strange and new experience, some classes may suffer from the lack of face to face interaction more than others. Prostart and Foods and Nutrition teacher, Ms. Jennifer Schmit, has an optimistic outlook that her classes will not be a part of that group.
Originally, students would be prompted to cook several times per week in the classroom, however, with some students now lacking ingredients and use of a proper kitchen, the curriculum had to be changed.
"The curriculum has changed a lot because I'm really more constricted with what is possible online," Ms. Schmit said. "Ideally at this point, we would be learning about the food groups & cooking based on the food groups. In class, I would give many opportunities to cook a week, but right now I am asking students to just choose one recipe to make at home. They also have the option to write a short essay to describe that menu item, because not all students have ingredients or can get to the store at this time."
While steps are being made to ensure students will gain as much as they can from their food classes, it is hard to overlook the fact that classes no longer take place in a kitchen with an experienced teacher on deck. However, for junior Allison Asche, this is no roadblock, rather an opportunity to take her education a little more into her own hands.
"Cooking is very physical, for example maybe you don't know how thick a gravy is supposed to be," Asche said. "If you're making it at home you can't just ask the teacher, but if you're good at using your resources you can find out. You can easily just look up a video on youtube to find out for example."
Along with being able to learn on her own terms, Asche also appreciates the added freedom. Originally, the ingredients for dishes cooked at school were preselected for the students\; now students can select their own ingredients if they so choose. Asche is allowed to take more creative liberties than she usually would have in the classroom kitchen.
"I'm a vegetarian and I don't eat dairy," Asche said. "So sometimes my group members wouldn't want to eat vegetarian or the dish wouldn't work, but now I don't have anyone to please, so for our last assigned dish my biscuits and gravy were completely meat free."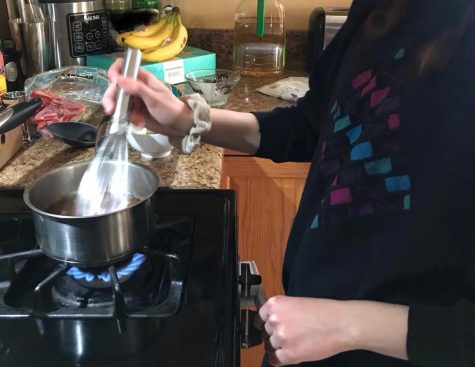 Asche is not the only student this new curriculum has been working well for. Most students were able to not only make the recipe at their own homes, but they could also incorporate the sense of freedom Asche took advantage of.
"First week went excellent with online classes!" Ms. Schmit said. "I learned how to make demo videos of myself making recipes, so the hope is that students can watch the video and be confident in their cooking skills. Students made a slideshow or some even made Tiktoks about the recipes.I think this is really an exciting time to bring more technology into a cooking classroom, which we often do not think about. It's also a great time to make food with family and friends!"
With a bright educational future for the food classes, the only question left up in the air is if students will receive a full or partial refund for the class. At the beginning of the semester, each student paid 50 dollars to the school for ingredients, but now that students are purchasing their own, the money should be of no use to the school. As of now, it is up in the air.
When it comes to schooling, this is a time of constant experimentation but as long as students can find ways to adapt as Asche has, education will continue, full steam ahead.
Leave a Comment
About the Contributor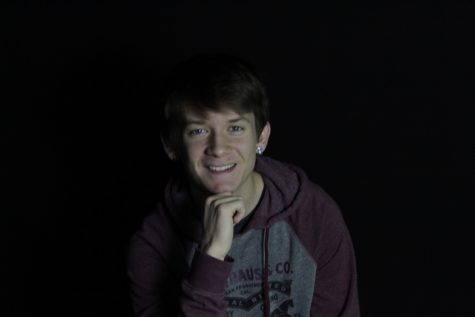 Connor Beck, Staff Reporter
Connor Beck is a junior at GHS and is in his first year on The Vanguard Staff. He serves as a reporter for the publication. Connor pursues journalism to...