The Last of Us, Episode Five: The Story Keeps the Audience Thinking, Watching
This episode meant the world to me: it included a heartfelt backstory, new characters, more depth on old ones and so forth. No criticisms or nitpicks came to mind when watching the fifth installment of this series. Whereas the pacing in previous episodes seemed odd, my eyes were glued to the screen and invested in the story.
In the previous review, I mentioned the complexity of Kathleen's character, and this episode perfectly ends her well-written arc. Kathleen's undying need for revenge eventually bit back and led to her dramatic downfall. Seconds before the clicker attacked her, Kathleen's face encapsulated her inner struggle between upholding her brother's honor and her morals being in jeopardy for a long-held grudge. Her pure, raw expression that laid her thoughts bare for the audience to observe was a beautiful silent moment in the tense onslaught of infection that genuinely moved me. Earlier in the episode, she reminisced about a memory from her childhood with her brother, demonstrating that Kathleen and Henry are more alike than they think. Both are caretakers for their siblings who would do anything, even risk life to protect the ones they love. There was no organic way for her to properly grieve and process her brother's death after all the destruction she caused, so her fate was simply the consequence of her actions. It truly makes the audience think how far they would go to protect their families honor.
Every character in this episode was a parallel to one another: Joel, Henry and Kathleen all passionately protect the ones they love in any way possible, whereas Ellie and Sam bond over their shared anxiety in the terrifying world. Sam and Ellie cope with their loss of innocence in a cruel world by sticking by one another so sincerely. Both experience so much death and misery that finding a friend to rely on gives them hope. On the topic of Sam and Henry, they might be my favorite characters yet. True, Henry did make a mistake in the past, but he tries his absolute best to keep his past from affecting Sam's future.
Having deaf representation is extremely important because rarely are disabled communities represented in the media. The amount of time and work done to portray accessible communication and a multi-dimensional character correctly was incredible. Both brothers are such realistic characters, boys who had to grow up forcefully. Additionally, as a sucker for symbolism and picking apart stories, this episode was a treat. Sam's fixation with superheroes helps mask and cope with his dire situation by creating a hero-like persona to hide his fear. Dissociation such as this is a real coping strategy children utilize to block out traumatic experiences. After meeting Ellie, he finds another kid who understands his struggle and finally has a true friend. At last, this child has someone to laugh with, vent to and sympathize with.
Ellie desperately needed someone her age to empathize with her confusing battle with identity. Joel tries his best to comfort Ellie as she stumbles through the spiteful world to bring a cure while sacrificing her childhood to succeed, yet this struggle is for Ellie to overcome. Even Joel, a 50-year-old man, fights his fatherly instinct to protect her because he cannot lose another daughter.
"Now, why would we end with a happy ending?" the producers ask, cackling at the audience for imagining such an insane idea. Having sweet storylines and action-packed ambushes cut short by the most unfortunate, miserable fate to ever grace television is what they achieved. I will not explain what happened for the sake of spoilers, but even I had to take a break afterward to process it. Most conflicts in survival-like series seem forced and somewhat cliché to me, however, this show proved this notion wrong by surprising the audience with unpredictable circumstances and actual consequences. Altogether, an emotion-packed episode with a heartbreaking resolution that pushes the characters forward to the next adventure.
Leave a Comment
About the Contributor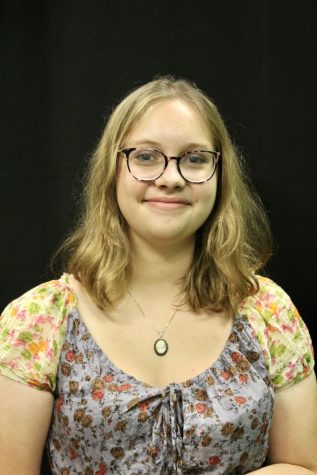 Onnika Moore, Reporter
Onnika Moore is a sophomore at GHS and is in her second year in the journalism program. She serves as a reporter for Gretna Media. She is involved in journalism...