Revolution Named Grand Champion at Titan Classic
Group Also Earns Best Male Soloist, Best Vocals and Best Visuals
At Papio South's Titan Classic, the GHS varsity show choir, Revolution, started their competition season the first full weekend of January with a victory. Beginning rehearsals in early August, with the theme of "Starry Night", this group has been diligent and dedicated to their show for almost six months. Though this is only the start, Revolution is already succeeding.
For seventeen years, Mr. Patrick Ribar directed Revolution. Now, the torch has been passed onto Mrs. Katelyn Wallace, who led the JV group, Evolution, last year. The performers are experiencing a shift in leadership and direction styles. Despite the newness, many students have expressed feelings of excitement for the change.
"Mrs. Wallace brings this energy and youthful aspect to our show that makes us so much better than I ever imagined we could be," senior Lillian Hydeen said. "The way that she runs rehearsals obviously greatly paid off. It's also super awesome as a female to have her voice to model after in parts of our show."
Under the new direction of Mrs. Wallace, many things have changed, though others have stayed the same. No matter the director, respect and hard work are present at every rehearsal and performance. Even in the beginning of the competition season, the group's effort was already beginning to pay off. Teamwork and working together to accomplish goals has played a major role in the group's success.
"I think that the best quality that the group has is that we all are super passionate about our show and about doing our greatest when it comes to performing," senior Brenna Herrold said. "I think the entire group has a collective agreement to go all out every time and to keep striving to get better."
For show choir groups across the state, making a competition's finals is not something to take lightly. Being chosen means a chance at winning, but more importantly, getting the chance to perform again. Each time the group performs, they continue to improve and bring the quality of their show up.
"When we make finals, I feel excited to perform our amazing show again," junior Jordan Thomas said. "The best part about our show is the people. We love each other deeply and we want to be the best we can be."
In their first competition of the year, Revolution not only won the Grand Champion, but also ended up with awards for Best Male Soloist, Best Vocals, Best Visuals and the Cheri Helmer-Riensche Spirit Award. For junior Cameron Bothwell, the winner of the outstanding soloist award, it was one of his goals for the year.
"Winning outstanding soloist was a big goal for me this year, so when I got the award, I was extremely excited," Bothwell said. "All of the soloists in our show are extremely good, so it could have gone to any of us. It proves to me that the judges think I have what it takes to compete at the highest level of show choir."
Placing at the top of these competitions boosts the overall morale and confidence of the group. Performers got a sense of validation and a reward for all of their hard work so far.
"I was thrilled beyond words when Revolution was announced as the winning group," Mrs. Wallace said. "There was a lot of tough competition, so we felt really fortunate that the judges loved our show so much"
Starting with a victory, Revolution sets off into the season with one competition already in the bag. This group has established early on that they know how to work together in order to create the best possible outcome. Throughout the rest of their competition schedule, the family that is Revolution only plans on getting stronger.
Leave a Comment
About the Contributor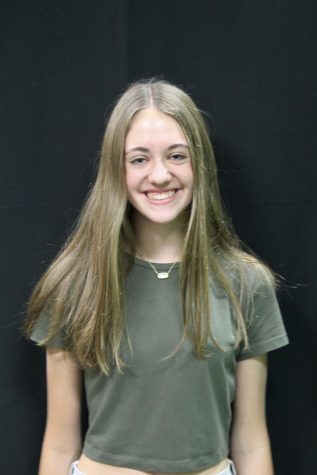 Mia Yungtum, Reporter
Mia Yungtum is a junior at Gretna High School and it is her second year in the journalism program. She serves as photographer and writer. She is involved...