Keeping It Together: Mod Ac Aims for Excellence
Heat from the stage lights burn every performer as they spin around the stage. Singing in unison to complete an organic and life-like sound that even instrumentals cannot muffle. Modern Acapella (Mod Ac) dazzles the audience as they sing on stage.
"It's my favorite class," senior Zhara Loosvelt said. "It's unlike any choir class you will ever take."
In Mod Ac, students use only their voices to make beautiful melodies. Since there are roughly 20 singers, more effort is needed to produce the background vocals. Not only do they have to sing, but they also dance and move around the stage.
"The most nervous part is blocking, like making sure that everyone is in their spot," Loosvelt said. "(Mr.) Ribar wants us to be the best, so it's a lot to do, and it's a lot more people. If one person messes up it could ruin it all."
The pressure truly sets in when one is front and center. Single-handedly they have the courage to show their talent while hundreds of people watch their every move. She may have had a solo in eighth grade, but felt determined to finally be the star. Loosevelt gets to be that star.
"I never really had a song that I felt 'I need that, I need to go get that', but 'Ain't No Mountain High Enough' is one of my favorite songs," Loosevelt said.
The original "Ain't No Mountain High Enough" is a duet with Tammi Terrel and Marvin Gaye. Therefore, it takes at least two soloists to complete the song. A pair of talented voices are sometimes better than one.
"I have had many solos, but this year I have the opening solo for the show choir show," junior Cameron Bothwell said. "I also have a duet with Zhara in 'Ain't No Mountain High Enough' for Modern A Capella."
Not everything is sunshine and rainbows. Every skill needs practice, hardship, and, yes, even those awful days where it does not seem to get better. In addition, the fact that younger singers look up to Mod Ac adds to the pressure and stress.
"I would say the pressure starts to set in two weeks before we have a performance and it's not even from nervousness with performing," Loosevelt said. "It's mostly our director just trying to hustle, get everything together."
"Together" has multiple meanings. The show's choreography and music need to be in sync. The performers also need to perform well as both individuals and as a group.
"It's a labor of love," senior Mia Cacioppo said. "The community that we create, it is just a small choir that we all become best friends."
These vocalists hope to inspire those who are at a decision point headed into high school. The path for many is to join GHS choirs or not.
"We inspire other little kids to join choir, they did it to me," Loosevelt said. "I remember we were watching their Halloween special and I thought 'Oh my goodness, I need to be in that.'"
Eventually, a new generation of voices gets a supportive and stable group to join. Just like the current group once chose.
Leave a Comment
About the Contributor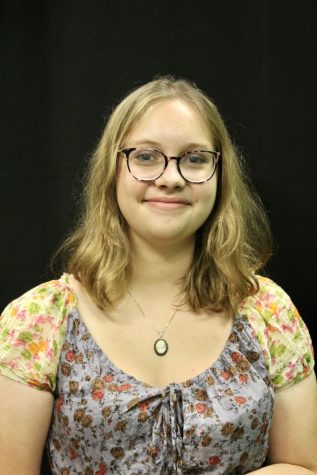 Onnika Moore, Reporter
Onnika Moore is a sophomore at GHS and is in her second year in the journalism program. She serves as a reporter for Gretna Media. She is involved in journalism...