My Hometown…
Reflection On How Gretna Has Changed and Will Continue To
Tonight, I had the pleasure to read an article published on November 4 by Dirk Chatelain, a writer for the Omaha World-Herald. I must admit, it brought a couple of tears to my eyes when I was only about half-way through. It reminded me of the place I was raised. Gretna was different back then. We ran through corn fields and kids would come back from summer break telling tales of their detasseling adventures. There were not many places to go to eat or shop back then, that is until my preschool became the shopping mall now known as Nebraska Crossing Outlets. I know I can not say much due to the fact that I was born in 2005, and was not a first-time resident, but thinking back to my childhood here, Gretna has changed in more ways than one.
4,441. That was the population of Gretna, Nebraska in the 2010 census. That is when I started kindergarten. My teacher was Mrs. Honeyman, a name that many people younger than me do not remember. Unfortunately, the class of '23 may be the last generation that truly remembers the old Gretna. The one that had cornfields around every neighborhood and was hardly under construction. The one that had a grass football field and you knew everyone in your grade. Waves of nostalgia are passing over now thinking back to what I once knew as my hometown.
I know many of you are thinking that I may not necessarily know what a small town is, especially in Gretna, but I remember the tour of the past presented by the old superintendent Dr. Riley. I remember when I would drive around this place and see the land stretch for miles. No houses in my line of sight, only the sun shining down from that blue sky on the crops planted below.
I am not saying that my home is ruined now because it is not. I am not saying that I know what it was like to live in a small town because I did not. All I am saying is that I remember what it used to be like here. The reason why my parents chose Gretna, all those years ago. They wanted me and my sister to grow up in a happy place. A place that was not too big, but not a town of 300 people such as my father's. I guess what I am trying to say is that just as people have to, towns must grow up and move on as well.
Gretna was an amazing place to grow up in when everyone knew everyone, but it is not that place anymore. Now, I walk through the halls of GHS and barely recognize my peers' faces. It is still a nice place to raise a family, but it is no longer the home that I knew. It is the home that I have grown accustomed to, but also the home that will continue to change as the new families keep rolling in.
Gretna will always have a special place in my heart, but soon it will not be my place anymore. Sure, my parents will still be here, but not much will be the same. It is home, for now, but not forever. Towns ebb and flow constantly, but this place will only flow from now on. Maybe one day a new town will open and everyone will flock there or maybe Gretna will carry on growing. Either way, it is my time to grow.
So, looking back on all the memories of my hometown I am equally sad and thrilled. I have always tried to take everything as a learning experience. The lesson I am choosing to take from the growth of my hometown is that I am glad that I have the opportunity to move on with it as we both start our next chapter in the summer of 2023.
Leave a Comment
About the Contributor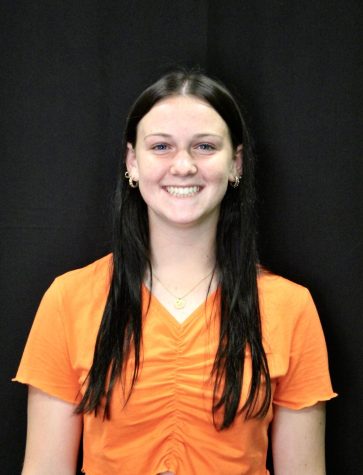 Ansley Gydesen, Co-editor Gretna Media
Ansley Gydesen is a senior at GHS and in her fourth year of being involved with Gretna Media. She is involved in journalism because she thinks it is a...