Drag N' Go Get Some Food
Cafe offers alternative options for hungry students.
Like most schools, GHS has the lunch option of a main course, side, drink, and fruit or vegetable for students. Although these options meet the needs of most students, some feel as though there is not enough to meet their specific diet or mood. A second kitchen was created in attempts to service the needs of the growing number of students and was quickly given the name the "Drag N' Go."
The "Drag N' Go" offers various alternative choices and continues to add to their menu. Numerous students with dietary restrictions especially prefer and enjoy the alternative options offered in the cafe.
"I personally prefer the cafe over the main kitchen because I am vegetarian and there are not a lot of vegetarian options in the main kitchen," freshman Mckayla Rind said. "The cafe also offers many healthier options."
Most foods that are not offered in the main kitchen can be found in the cafe. They have choices that range from yogurt, salads, sandwiches, and soup. As well as a lot of the same foods as the main kitchen.
"The menus are very different," Director of Food and Nutrition Services Mrs. Sharon Shaefer said. "We are trying to accommodate different types of customers or different types of cravings, sometimes it's a homemade mac n' cheese kinda' day and sometimes a delicious salad is what you're craving."
A number of students notice that the "Drag N' Go" seems to be running low by third lunch. FANS (Food and Nutrition Services) tries their best to ensure that all lunches get the correct amount of food and that there is enough for each lunch.
"FANS pace the food," Mrs. Shaefer said. "If we make 24 yogurt parfaits, we put out 8 at each lunch and if we sell out each lunch we make 30 the next day. We try to find a pace where there isn't a lot of waste balanced with a good amount of choices."
Although FANS does their best to provide enough choices to cater to students' diets and cravings, students still have suggestions for items that they would like added to the menu.
"I think that the school should sell Celsius' since so many students drink them," Rind said. "It would be easier to get them from the school and not have to go to the gas station in the morning."
Both students and staff agree that the "Drag N' Go" could be improved, but they also see the positive effects it has on the lunch options. FANS continues to work to improve to accommodate all of the people who purchase food at the cafe.
Leave a Comment
About the Contributor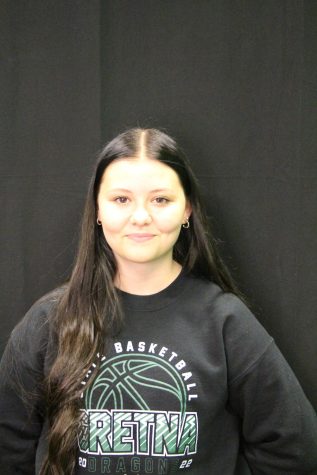 Cadee McCoid, Co-editor Gretna Media
Cadee McCoid is a sophomore at GHS and this is her second year with Gretna Media. She serves as a co-editor. She is involved in journalism because she...