Jump, Shoot, Snap
Injury Ends Player's First High School Season
On Jan.27, a season-ending injury occurred at the girls' reserve basketball game against Omaha Central to freshman Addi Armitage. Now, being down a player, the team is short one player and will need to adapt their roster to continue the season
"The season had been going really great, and I was looking forward to the rest of it," Armitage said. "Then I tore a ligament in my game and my season was over."
Armitage trained for months prior to the 2021-2022 season, so she was disappointed when her season was cut short. It was a successful season, like in the PLVS game where she scored 18 points but illness and then her injury changed her experience.
"I was just really mad, I had just gotten over a few sicknesses and then I got hurt," Armitage said. "I also had been scoring a lot of points in my recent games so I was really frustrated that I didn't get to finish my season out."
Anger is a common feeling felt by players when their season gets cut short by an injury. There are still various ways to continue practicing and improving. As a player, Armitage reports to practices and attends games.
"Well, while I'm hurt I obviously can't really run or anything," Armitage said. "But I can do other things like upper body training and dribbling and shooting."
When there are injuries on a team, it causes that team to make a change. With injured players, it forces the team to adapt their rosters.
"The main issue we have with injuries is that it damages our team depth at any given position, which is not easy to overcome," coach Mr, Jon Swanson said. "At the same time, it can provide an opportunity for younger players who may get more time at a given position due to the lack of depth which helps the player and helps build the team for the following season."
There are also many ways a player can benefit from being injured. Working on the back end of the sport can help a player learn to manage and stay close to the team.
"Sometimes, we also have players who have an injury help out like a team manager and run the clock or scoreboard for some drills or activities." Mr Swanson said.
For Armitage, it is important to continue going to practices and working alongside her teammates. She is planning on working hard and practicing as much as she can to be prepared for the next season after recovering. Even after being unexpectedly injured, Armitage hopes to return to basketball next season.
Leave a Comment
About the Contributor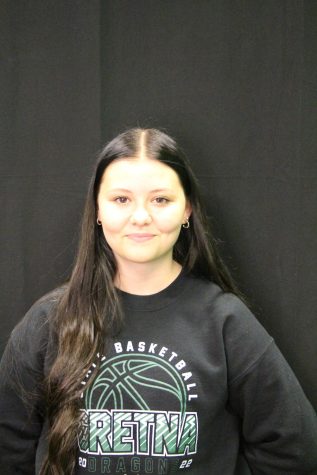 Cadee McCoid, Co-editor Gretna Media
Cadee McCoid is a sophomore at GHS and this is her second year with Gretna Media. She serves as a co-editor. She is involved in journalism because she...