More Than Chess
Netflix Limited Series Becomes Unlikely Hit
When hearing the short explanation of what the Netflix Original Limited Series, "The Queen's Gambit," is about, viewers might expect it to be boring. Yes, the series is about chess, but it packs a punch in ways one would not expect. "The Queen's Gambit" is Scott Frank's adaptation of the novel of the same name by Walter Tevis. It comes together to create a binge-worthy show due to the marvelous acting by leads Anya Taylor-Joy and Thomas Brodie-Sangster, paired with a magnetic screenplay that will leave viewers in awe.
This seven episode series opens in the 1960s with us meeting Beth Harmon (Isla Johnston) as an eight year old child who just survived a car accident that killed her mother. Beth's father was never in the picture, so she found herself at a Christian orphanage by the name of "Methuen Home For Girls." Here, Beth develops her passion for chess when she plays Mr. William Shaibel, the orphanage janitor. While she continues to learn about chess with Mr. Shaibel, she becomes addicted to tranquilizer pills that the orphanage used to control the children. At the age of fifteen, Beth is adopted by a couple with a failing marriage and leaves the orphanage with only the clothes on her back and whatever pills she could find to take with her.
After this point, Beth is played by Taylor-Joy as we watch Beth go through high school and onto adult life. Beth enters her first local chess tournament and quickly excels to compete at the national level. While playing higher level chess, she meets USA champion Benny Watts (Brodie-Sangster) who assists her in her goal of becoming World Champion. Beth's journey takes her all over the world to compete, but her addiction to the tranquilizer pills from her youth and alcohol holds her back. She must decide what is more important to her; continuing her chess career or giving into her addiction.
As the series progressed, Taylor-Joy's performance grew as she became intoxicatingly vulnerable and witty in her banter. She portrayed Beth beautifully showing her inner conflicts between being confident in her incredible chess ability and doubting her skills while turning to substances to cope. Beth thrives when she is alone, which makes sense because she grew up as an orphan who had to learn to fend for herself. Oftentimes in this series, the scenes that held the most impact were the ones where Beth was alone in her bed or on a plane. Taylor-Joy's performance in these scenes were what allowed the audience to connect with Beth so much because of how vulnerable she allowed Beth to be. The way Beth acts when she is alone is similar to how she acts while playing chess because she is able to block out everything and put all of her focus into the board and the pieces. She states that "it is an entire world of just 64 squares" which shows that chess became a way for Beth to cope with her real world problems.
Whether you are a chess player or do not know a single thing about the game, I recommend this show because of its impeccable performances and how easy it is to fall in love with Beth Harmon and root for her despite her addictions. "The Queen's Gambit" is one of those shows you will always remember for its ability to make you feel like you are right there with Beth. What an incredible show.
Leave a Comment
About the Contributor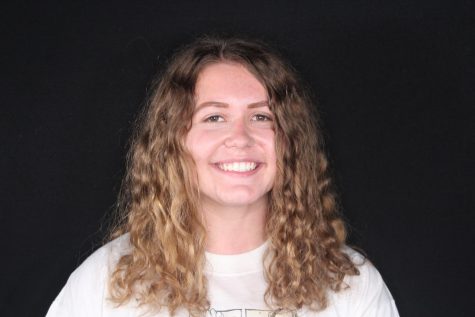 Samantha Chase, Managing Editor
Samantha Chase is a senior at GHS and is in her second year on the Dragon Staff. She serves as the Managing Editor. She is involved in journalism because...