Wrapping-Up Semester One
COVID-19 Cases, Pop-up Clinic, AID Days Explained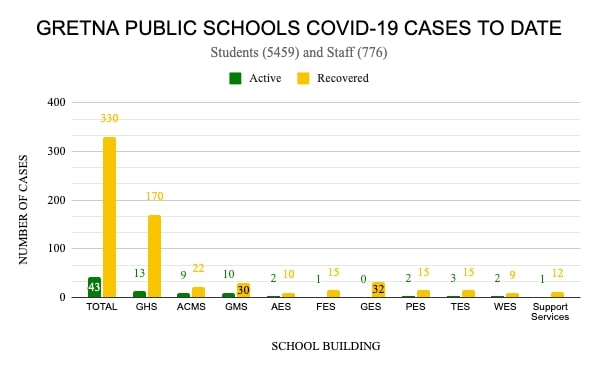 Students and staff members continue testing positive for COVID-19 as GPS continues to offer in-person learning to students. Since the official start of the school year on Aug. 13, a combination of 328 students and staff members have tested positive for the virus district-wide. 170 of these cases come directly from GHS. This month, however, the number of confirmed cases has declined.
"We have seen a steady stream of cases, but in October, case numbers have increased dramatically due to an event held outside of school," school nurse Mrs. Bridgett Plathe said. "Since then,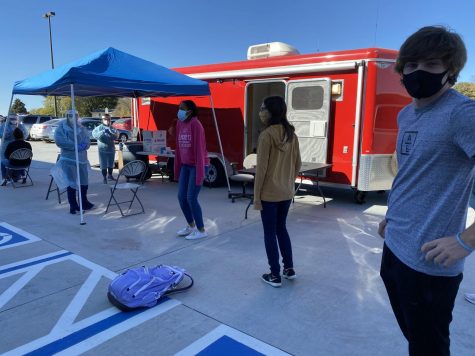 we continue to see cases, but not at the same rate as in previous months."
According to Live Well Nebraska, a temporary pop-up clinic was established by the main entrance of GHS on Oct. 15 due to a large student gathering unaffiliated with the school on Oct. 3. In total, over 200 students attended this event. Out of the 342 students that were tested in this clinic, 24 of these students tested positive for the virus; the 24 positives equate to a positivity rate of 7.29%.
"After the month of Oct. leading into Nov. there was a high but decreasing number of cases," Mrs. Plathe said. "After Nov. leading into Dec., there have been the lowest number of cases this school year yet."
In addition to COVID-19 cases reaching an all-time low this month, AID (Academic Intervention Days) were established to help keep students caught-up on school work. These AID days provide distance learners with the opportunity to physically attend school without worrying about interacting with mass gatherings of students and staff members in school. In total, there have been two AID days; Friday, Dec. 18 will serve as the third and final AID day of the semester.
"The original purpose of AID days was to provide students, during COVID-19 with all of the restrictions and quarantines, an opportunity to work one-on-one with teachers to help them get caught-up on their school work," principal Mr. Mueller said. "We were seeing record numbers of missing assignments from students, so we felt needed to be done. As a staff we have been extremely successful in achieving what they (AID days) were designed to do."
With winter break right around the corner, many students are curious as to how the second semester will play-out, and if a district-wide school shutdown will be possible after the holidays.
"Over the holidays, many students and teachers will be traveling out-of-town with their families," junior Presley Lightwine said. "I'm worried that a lot of students and teachers will contract the virus over the holidays; I'm worried that the school may shut down because of this."
According to Mr. Mueller, the school will continue abiding by the health guidelines as enforced by the Sarpy/Cass Health Department. Given the current low number of COVID-19 cases, Mr. Mueller does not see an immediate need for COVID-19 related policy changes, but if case numbers drastically increase among teachers and staff members after the holidays, a district-wide shutdown may be considered.
"The main cause for a shutdown would be if we didn't have enough staff members in the building to monitor students in the classrooms," Mr. Mueller said. "The odds of enough kids your age contracting the virus at a single period of time is astronomical. Over half the students would have to test positive for the virus in order for a district-wide shutdown to be considered; this is unrealistic. What is realistic is for a third of the staff to get the virus. If this were to happen, then we would be unable to monitor classrooms and keep school in session."
In the first semester of the school year, the administration, nurses, teachers and additional school staff members have been able to suppress the number of positive COVID-19 cases district-wide through contact tracing procedures. According to Mrs. Plathe, there were many ups and downs in the first semester of the school year, but everyone has survived, and school has continued to stay in session.
"I heard an Alicia Keys song that focused on thanking teachers, nurses, doctors and frontline workers who are going out of their way to make sure schools are open," Mrs. Plathe said. " There is something to be said to all those 'heroes' that are making sure this happens. Think about telling a staff member in your school thank you; they are going above and beyond in this unprecedented time."
Leave a Comment
About the Contributors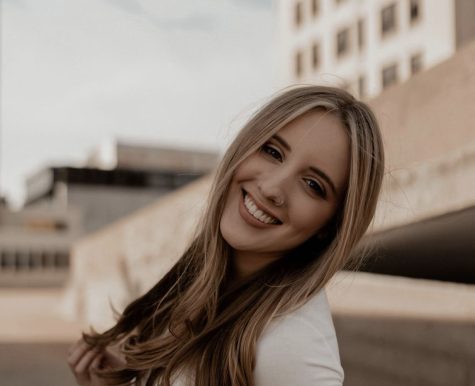 Kalei Renner, Yearbook Business & Advertising Manager
Kalei Renner is a senior at GHS and is in her first year on The Dragon staff; she serves as the Business and Advertising Manager. Prior to entering The...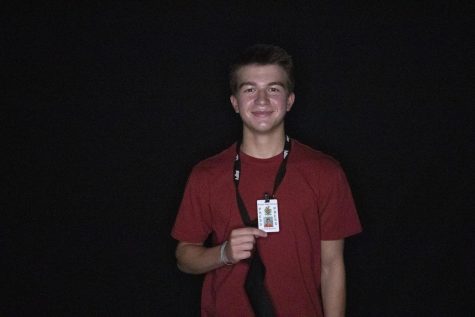 Matthew McKinney, Staff Reporter
Matthew McKinney is a senior at GHS and in his first year on The Voice Staff. He serves as a reporter. He is involved in journalism because he feels strongly...