Safe Swim Meets
Swimmers Adjust To New COVID-19 Protocols
Due to Metro Conference COVID-19 protocols, swim meets this season look a little different. Before swim meets, all athletes need to check for symptoms before arriving at the pool and get temperature checks done.
"Swimmers and coaches get their temperature checked at the school before getting on vans or doing dryland," varsity swim coach Ms. Kari Weihl said. "They also get their temperature checked once we get to the pool."
By following the Metro Conference protocols, swimmers were allowed two tickets for family members, but most meets did not have spectators. This is because most pool decks would not hold the amount of spectators while also maintaining social distancing guidelines. For example, the first meet of the season was a dual against Omaha North and no spectators were allowed to attend.
"The biggest thing swimmers are having to adjust to is no spectators," Coach Weihl said. "It's hard not having their parents there to cheer them on, instead they are doing it virtually."
At the meets and practices, masks and social distancing were required. Masks were worn at all times except for in the water. Once a swimmer got out of the pool, they were expected to put their mask back on and remain a six foot distance from others. In past years, swimmers were able to use the locker rooms at the pool. Due to social distancing and overall safety, swimmers were not allowed to use locker rooms and were expected to come already wearing their suits.
"It's very hard to stay six feet apart from everyone at all times," junior Isabella Lindberg said. "Sometimes multiple people are looking at sets at the same time so it can be hard to remember to social distance."
At any Metro activity, media is encouraged. Due to social distancing, some venues were not able to accommodate all media. Meets were broadcast on Microsoft Teams for families and other spectators to watch. Another aspect of social distancing involved swimmers standing behind the blocks before their races. Usually, the next heats line up behind the block before they swim. But this year, in order to keep everyone safe, swimmers were not allowed to step up behind the blocks until the heat before them got out of the pool.
Even though this season was different from the past, swimmers were still able to adjust to the safety protocols. This helped to keep swimmers and coaches safe while still enjoying the sport they love.
Leave a Comment
About the Contributor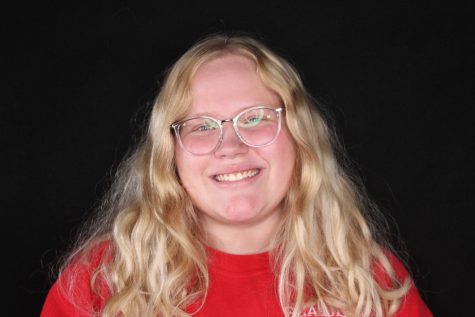 Sophia Allen, Business Manager
Sophia Allen is a junior at GHS and in her second year on The Dragon Staff. She serves as the Design Editor and Business Manager. She is involved in journalism...