Scholarship Created for Students With Deceased Parents
Odermatt Family Recognizes Impact, Provides Financial Help
The 4the4 memorial scholarships, created in honor of Kloe Odermatt, Abby Barth, Alex Minardi, and Addisyn Pfeifer, were given to four 2020 seniors this year. It was important to the moms of the four girls to award a scholarship to honor the girls together because they left the earth together. In addition to this scholarship, Kloe's mom, Ms. Julie Odermatt, wanted to do something to honor Kloe individually.
Two scholarships were created in Kloe's name. Ms. Odermatt shared that Kloe loved cheerleading and that she started at Elite Cheer when she was three years old. The Fly High K-Low Scholarship pays for one cheerleader's season at Elite Cheer. The second scholarship is called the Kloe Odermatt Memorial Scholarship that will go to a GHS student who has lost a parent, just like Kloe did. In October 2011, when Kloe was eight years old, Kloe's father, Kirk Odermatt, died.
"The hardest thing that Kloe had happen in her life was the loss of her dad and she always talked about it, so I wanted to give the scholarship to someone who had experienced such a loss like Kloe did," Ms. Odermatt said. "I knew how special it would be to honor Kloe and also give a little bit of a memorial to Kirk. Imagine graduating when you have lost a parent, you don't have that parent for the rest of your life. I just wanted to help and give to someone else in their honor and memory."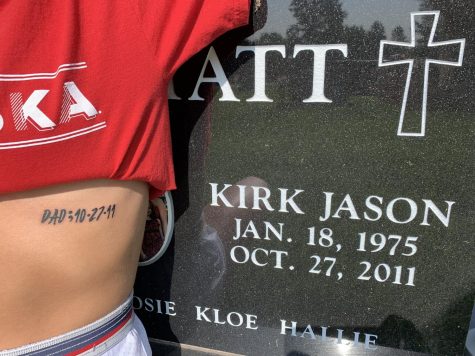 The money for both of the scholarships came from the community, friends and family donations. Any money that Ms. Odermatt received for Kloe's memorials went into a separate account that was then used for the scholarship. About two weeks before Kloe's death, she got a tattoo to honor her father, permanently placing "DAD" near her heart. Kloe said she had never felt so close to her father until she got the tattoo. The death of her father was very prominent in Kloe's life, and it was her dream to get that tattoo. Ms. Odermatt is thankful that Kloe got the tattoo she had wanted since she was eight years old. To receive the scholarship, the GHS senior had to have a 3.0 or above, show how they have been a leader in the community and write an essay answering questions about the loss of their parent or guardian. This year, the Kloe Odermatt Memorial scholarship was awarded to senior Madison Hansman. Hansman's father died when she was 16 years old. After Ms. Odermatt got to know Hansman, she noticed Kloe and Hansman acted similarly towards the death of their fathers.
"Madison has been amazing," Ms. Odermatt said. "After getting to know her a little bit more and being friends with her on Facebook, I know my heart just took me to the right place for who it should go to. Some of the things she says and does and the things she posts, I could just see that is how Kloe would react. She's very open about the loss of her dad and so was Kloe. It is really special."
Hansman is grateful and excited she was the first recipient of the Kloe Odermatt Memorial scholarship and is honored she gets to help share Kloe's memory. Both her and Ms. Odermatt feel she is a great fit to have received the scholarship.
"I can relate to Kloe in the aspect of losing a parent," Hansman said. "I did not know Kloe personally, but I didn't have to, to know that she had such a vibrant, fun and spontaneous personality. I am so thankful to have received this scholarship."
Ms. Odermatt feels both Kloe and Kirk's strong presence. Ms. Odermatt wants to continue this scholarship in the future and is doing things now to help raise money to keep the memorial fund alive. She wants to continue to honor Kloe and to help the community remember their personalities and spirits for the rest of her life.
Leave a Comment
About the Contributor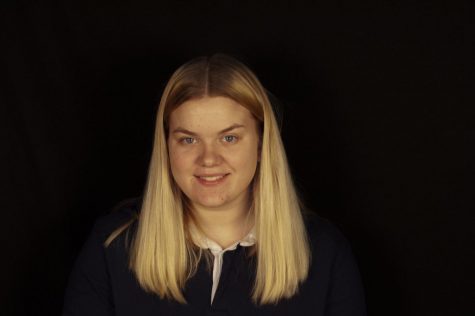 Peyton Rewczuk, Editor-In-Chief
Peyton Rewczuk is a junior at GHS and is in her second year on The Vanguard Staff. She serves as Editor-in-Chief. She is involved in journalism because...