Leading By Example
Senior Makes His Mark on Running Legacy
Leadership is a crucial aspect of many teams. Gretna cross country and running is no exception to this. Senior Bradley Sullivan takes this role above and beyond what the typical leadership standards are. He has been a member of the cross-country team for three years and the track squad for two. Leaders take on many different roles on a team, but regardless of where they are on the depth chart, they do make everyone around them feel and perform better.
"Bradley has always been there and as a leader, he makes sure that our team is doing what we should be doing, but he's always been an encouraging person," sophomore Kale Edmonds said. "He encourages me and everyone else to be the best person they can be and to do the best they can."
Sullivan could be found at every meet cheering on the people in green beside him. Whether it was on the sidelines or while racing, he kept the atmosphere upbeat.
"I try to always make sure that I am helping my teammates in whatever way I can," Sullivan said. "I think that it's only fair that I do it because the upperclassmen for me always kept the environment energetic and encouraging."
Sullivan built an extensive running career with many ups and downs. The season can always bring adversity, but true athletes are the ones who power through the obstacles.
"Brad's biggest impact has been as an example," head cross country coach Mr. Kevin O'Neill said. "Brad has reinforced one thing I have always believed in that the toughest limits we run into are those we set up for ourselves. I enjoyed watching Brad break through those limits time and again with hard work and a great attitude."
Sullivan enjoys his time with his team above all else. His teammate Edmonds is a consistent running partner of his and a good friend.
"I would say one of my most memorable moments was actually running with him during the quarantine time and being able to build a nice relationship with him not even just while running," Edmonds said. "I knew him before, but now we have a deep personal relationship that we should be able to continue once we get out of high school."
The coaches encourage these relationships often both on and off the course. They also try to become close to their athletes by helping them.
"It is difficult to measure how to help someone or the effect it has on them," Mr. O'Neill said. "I would hope that pushing Brad to push up against his own limits and by encouraging him to keep improving has helped. So much of what any athlete brings to a sport comes from within and we just try to shape things and bring out the best in them."
Sullivan has nothing but gratitude for the entire team. After many years of growth, he hopes the program will continue to produce inspired runners.
"The coaches are very knowledgeable about what they say and have a lot of experience overall," Sullivan said. "They really know what they are doing and they've helped [me] through injuries and through all they can. They really set up a great program to keep me improving through my time here."
Leaders can take time to develop, but they always end up as helpful examples for those who need it. Sullivan is the prime example of that. His character and leadership will leave a lasting impact on the squads he was a part of.
Leave a Comment
About the Contributor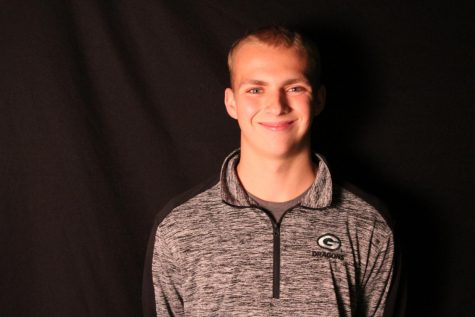 Ethan Menning, Sports Editor
Ethan Menning is a sophomore at GHS, and this is in his first year on The Voice staff. He is a sports editor who enjoys getting the story out in a real...