Keep Reading, Even During A Pandemic
Mrs. Bulgrin Offers Curbside Checkout to Students
Amid the COVID-19 pandemic, GPS is doing everything in its power to ensure its students' education by offering them ways to learn without exposing themselves to the virus. Specifically, at GHS, librarian Mrs. Bulgrin has created a curbside library for students to safely check out books without making physical contact with anyone. Library books can be picked up by students every week on Tuesdays and Thursdays.
"I knew that after the first week of school being out I wanted to create a newsletter for checking out library books," Mrs. Bulgrin said. "Since I am at the school on Tuesdays and Thursdays, it would only make sense to have a curbside library where students could easily come in and pick up books."
In order to pick up a checked-out book, students have to first put a book of their choosing on the library catalog website. Then, they must park in the front parking lot and walk up to the left-side front entrance doors. Also, since the high school is busy with drive-thru lunches from 10 a.m. to 1 p.m., students must go in either before or after those times to pick up their book,
"Students can go to the online library catalog to check out books," Mrs. Bulgrin said. "I check this catalog every day, and when a student wants a book, I pull it out and put a sticky note with their name on it. Then, I set it out for them to come to the school and pick up right inside the front entryway."
If a student wants a book that is already checked out, they will have to find another book. Given the fact that the user catalog is very user friendly, It is easy to find out if a book is checked in or out by simply clicking on the student-desired book in the catalog. Students can also email Mrs. Bulgrin to check out a book if they don't understand how to do it on the website.
"To access the online library catalog, students must sign in with their username and password," Mrs. Bulgrin said. "After placing a hold on the book, I receive an online notification that alerts me of a book that wants to be checked out by a student, but if a student doesn't understand how to check out a book, they can always just email me so that I can check it out for them myself."
This curbside library is not only accessible at GHS, but all GPS middle and elementary schools have their own curbside libraries as well. Desperate to keep students both learning and healthy, these schools have been making sure a six-foot distance is being kept at all times between the librarians and students during book pick-up, but since the curbside libraries are still new, figuring out how to actually sanitize the books when they are dropped back off has not been discussed among the librarians yet.
"I have a box in the entryway that says 'Library books here,'" Mrs. Bulgrin said. "That box has a plastic bag in it, and when I get a certain amount of books in it, I just grab the bag and tie it. I haven't decided how I am going to sanitize the books because I've only gotten one book back so far."
Sophomore Presley Lightwine is one student, in particular, who is looking forward to checking out a book from the online library catalog. She heard about the curbside library from sophomore Kalei Renner.
"I have nothing else to do during quarantine," Lightwine said. "I thought checking out a book would be a good idea since I've been wanting to start reading anyways."
Although times are feeling unnatural during this pandemic, reading a good book is a great way to pass the time while practicing social distancing. The curbside library is one of many ways that GHS is showing support to the local community through this unprecedented time.
Leave a Comment
About the Contributor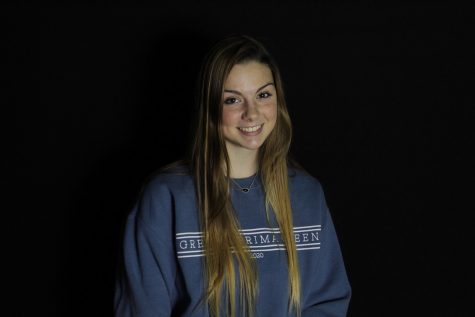 Skylar Mosser, Staff Reporter
Skylar Mosser is a sophomore at GHS and is part of the Vanguard Magazine for her first year. She is in Journalism because she enjoys learning about other...