Music Catastrophe
Health Officials Predict No Live Concerts and Festivals Until Fall 2021
Even though nothing is official, health officials are predicting that live concerts and festivals will not be allowed to take place until as early as fall 2021. According to 98.9 The Bull, Zeke Emanuel, who is vice provost for global initiatives and director of the Healthcare Transformation Institute at the University of Pennsylvania, believes that large gatherings such as conferences, concerts and sporting events are not likely to happen anytime before fall 2021.
"We shouldn't take the risk of opening concerts too soon\; the virus will spread to more people and become even more uncontrollable," freshman Ryla Stark said. "It's safer and easier to slow down the curve of COVID-19 by not letting people attend large gatherings such as concerts and festivals."
Hopes for concerts and festivals taking place in the upcoming summer months began to dissipate as soon as the Coachella Valley Arts and Music Festival was postponed to the weekends of Oct. 9 and Oct. 16. Along with that, a variety of artists postponed their concerts to this fall. Even with postponements, it all depends on when a vaccine can be developed\; Emmauel's prediction is based on the current developing timeline of the vaccine, which can take 12-18 months.
"I was supposed to go to The Lumineers on March 14, but it ended up getting postponed to September 22," sophomore Presley Lightwine said. "Honestly, I want to go to this concert in the fall, but it really just depends on how everything plays out. If there continue to be more new cases and deaths related to COVID-19, then I'm doubting I'll be able to go."
Some of the artists that postponed their concerts in Omaha include artists Billie Eilish, Blake Shelton, Dan + Shay, Cher, Bob Weir, Avi Kaplan and The Floozies. Junior Miranda Parkinson was one of many students who planned to attend the Billie Eilish concert until it was postponed to an unannounced date.
"I wasn't surprised when she postponed it considering everything that had been happening at the time with COVID-19," Parkinson said. "I think postponing concerts is smart to follow social distancing and prevent the gathering of large crowds. It's also good because every artist I follow that has postponed their tour, for the time being, hasn't canceled any actual performances yet. They just simply postponed them to a later date which is better than not seeing them perform at all."
Not only have artists had to postpone their concerts, but local bands in the Omaha area have been unable to book shows. Mr. Jason Larson, a physical science teacher at GHS, was supposed to perform a show in April before it got cancelled. He is a part of Aris, a four-piece, all original band from Omaha, Nebraska.
"I play drums in a band, and one of our shows was cancelled back in April," Mr. Larson said. "Since this show was cancelled, we have been unable to book any more shows anywhere."
Until there is a vaccine that can be properly developed, tested, produced and distributed, many health experts believe that large gatherings are the last thing to be permitted. As a result of this, concert-ticket holders are able to receive refunds on their tickets via Ticketmaster at any given time.
Leave a Comment
About the Contributor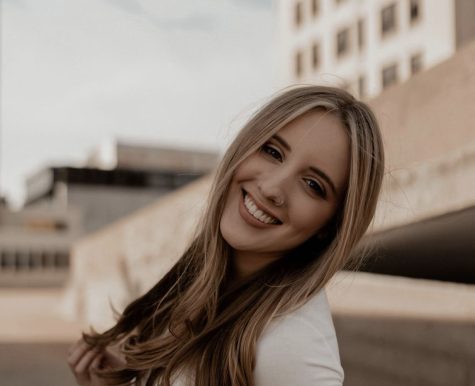 Kalei Renner, Yearbook Business & Advertising Manager
Kalei Renner is a senior at GHS and is in her first year on The Dragon staff; she serves as the Business and Advertising Manager. Prior to entering The...