Chalk the Walk
Sidewalk Art Makes a Comeback
Over the past few weeks, colorful chalk decorations began to appear on sidewalks around Gretna. One day the cement was dull, the next day it was covered in the bright powder. Sidewalk chalk drawing has kept many students busy while stuck at home. Senior Cailyn Sykora is one of those artists. Chalk art is something that people have a connection to, as it was an activity of their youth.
"I've been playing with chalk, like most kids at a really young age," Sykora said. "But as of recently, I have been using it to spread a little bit of happiness to the neighborhood kids."
Even those who were not drawing the images enjoyed the addition of art to their neighborhoods. When the weather permitted, eighth-grader Georgia Lacey would go outside to view the colorful new pictures that seemed to pop up each day. Each artist had their own style and drew what inspired them. For Sykora, she enjoyed drawing different Disney characters and a 2020 senior drawing. Just like every artist, each viewer has their favorites.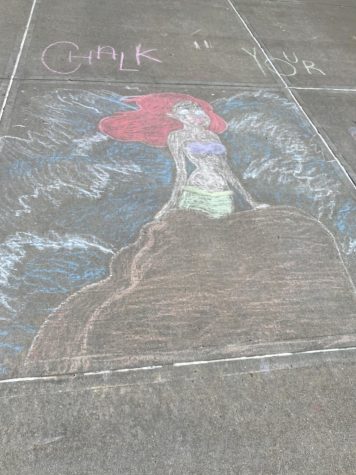 "My favorite types of chalk art that I like to see are Disney characters, flowers, and positive messages," Lacey said.
People are expected to limit their contact with others, causing some children to be bored. The children found the familiar characters scrawled across their neighborhood, most of the drawings were characters that the children would recognize which inspired them to make their own works of art. Chalk is easy to use and easy to get a hold from stores.
"It can be used in various forms of expression and can be used by people of all ages," Sykora said. "I just wish more people would participate and make our isolation a little bit more colorful."
The bright images encouraged those who passed to be in a positive mood and keep pushing through. Some of the artists posted their art on social media which also inspired others to join in on the growing activity. A spring snowstorm that dropped 8-9 inches of snow on April 16 caused a decrease in the level of participation, but with every sunny day, the unique masterpieces would return to the sidewalks and driveways.
"The chalk art around my neighborhood makes me feel happy because it feels like my community is coming together and connecting while we have a pandemic," Lacey said.
Chalk art was a way for artists to share their imaginative side with their community. It helped to brighten the streets while providing an activity that allowed artists to be outside while social distancing. The art sprinkled across the town continued to bring positivity to those who sought it.
Leave a Comment
About the Contributor
Elizabeth Daily, Sports Editor
Elizabeth Daily is a senior at GHS and is in her first year on The Dragon and The Vanguard Staff. She serves as a Sports Editor of the yearbook and reporter...