Welcome Dragons, Everything Is Fine
The Good Place Season One Review
While stuck home over the school's closure for COVID-19, I needed a new show to watch. After scrolling through my Netflix account, I stumbled across "The Good Place". With only 13 episodes in season one, I decided to give it a try after hearing good things from my fellow yearbook staff members.
The show follows Eleanor Shellstrop played by Kristen Bell on the journey after her death. Episode one starts right away with Eleanor winding up in The Good Place, where the best people go when they die. However, there is one problem, she does not belong because she was a horrible person. To hide her secret and prevent going to The Bad Place, Eleanor decides to become a great person with the help of her soulmate Chidi, played by William Jackson Harper From the beginning, I really enjoyed the show. There was never a dull moment. I appreciated the main theme that anyone can become a better person, no matter what you have been through. I liked learning about each of the characters and seeing their background stories. This led me to not judge them based on their first impression.
My favorite moments from the show include Eleanor's character development, pop culture references and Janet learning to become independent. Janet is like Siri but in human form. Janet, played by D'Arcy Carden, follows the robotic code and whatever Micheal, played by Ted Danson tells her. She also looks a lot like senior Lanie Wills. Then, she is rebooted and follows her own mind.
As the plot progresses, we get to find out why Eleanor is really in The Good Place. The Plot twist at the end of the season had me at the edge of my seat. It is a good thing I did not have to wait for season two. By learning about the background of each of the characters, we see how everything ties together. Even though the show is a comedy, there are serious moments that make you root for the main characters. Although Eleanor may have been a horrible person at first, I really wanted her to stay.
All in all, the show deserves 5 out of 5 stars. I cannot wait to see what surprises are in store in season two, and how they solve the cliffhanger from the season finale. I recommend students to watch "The Good Place" once they are done with e-learning.
Leave a Comment
About the Contributor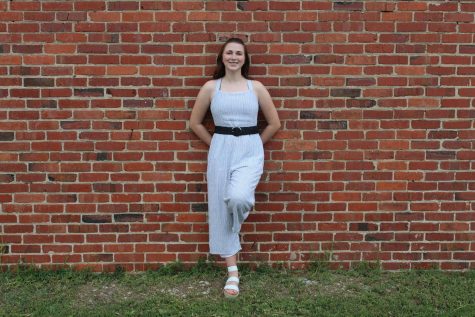 Delany Jepsen, Yearbook Editor in Chief
Delany Jepsen is a senior at GHS and the editor in chief of The Dragon yearbook after holding positions as a reporter, production manager, and clubs editor....