Fighting to Stay Open
Local Businesses Describe Struggle Amid COVID-19 Pandemic
On March 16, Nebraska governor Pete Ricketts made a public announcement that advised Nebraska citizens to maintain a 6-foot distance between themselves and other people and to avoid public gatherings of larger than 10 people until April 30. With these regulations, restaurants and bars have changed to take-out, drive-thru and delivery only, salons have temporarily closed their doors and daycares have adapted to having fewer children in their programs.
"I never thought anything like this would ever happen," Salon DeMarco Suites hairstylist Alexis Akers said. "I would not be surprised if the extension went into mid-May; I have planned my work schedule accordingly to this."
Hair salons, nail salons and other services in the beauty industry are just one example of businesses that are struggling amid the COVID-19 pandemic. According to KETV NewsWatch 7, only businesses that are able to abide by social distancing guidelines can stay open, but since the beauty industry cannot perform their services while maintaining a six-foot distance, they had to temporarily close down their businesses.
"Sarpy County shut down salons on March 31," Salon DeMarco Suites hairstylist Sarah Nordhue said. "The hardest part of owning my own business is if I don't work, I don't get paid. However, the government has made a few helpful options for us to still have some sort of monthly income to pay monthly bills."
"
"I never thought anything like this would ever happen." "
— Alexis Akers
Even though Nordhue can no longer provide services to her clients – for the time being – she is still able to go on 'product deliveries.' These deliveries consist of a variety of different hair products and are alternate ways that help her earn a source of commission.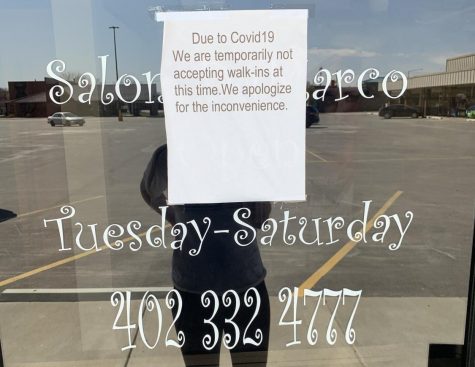 "I've been going on 'product deliveries' for clients since our supply houses are still open," Nordhue said. "I believe it keeps the economy going within our industry and gives me an avenue to keep in touch with my clients."
In spite of these tight regulations making it harder for businesses to serve as many customers as they did before the start of the pandemic, many restaurants and fast-food chains are coming up with creative ways to still make a profit. For example, Amigos, one of Gretna's fast-food restaurants, has recently started selling 'Take & Bake Family Meals' to customers.
"We have introduced four-family options in two sizes, and in the coming week, we will be introducing four more family meal options," Amigos executive manager Matt Keslar said. "We also have many catering options containing a variety of our individually wrapped menu items that have been able to serve the community."
Grocery stores are another business that has had to adapt to the demanding social distancing guidelines. Given the fact that these stores are still open, store workers have had to collectively work together to ensure the safety of their customers through sanitation and additional social distancing guidelines.
"We have signs posted everywhere to make sure that our customers are keeping a six-foot distance between each other," McKinney's Food Center store owner Bob McKinney said. "Along with that, we keep the store clean by bleaching carts and baskets, Clorox-wiping surfaces and offering gloves and masks to our employees at their request."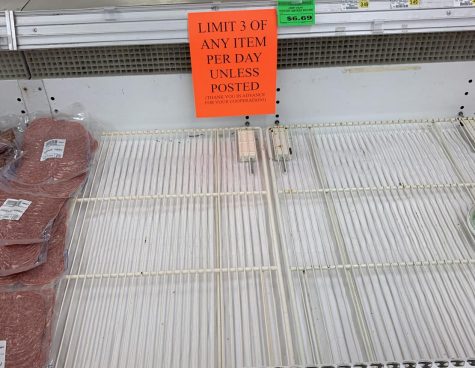 Even though McKinney's Food Center is enforcing social distancing for their shoppers, they are still struggling with keeping large groups of customers from entering the store at one time. With this, goods such as meat, baking goods, cleaning supplies and toilet paper are running out of stock quickly.
"Toilet paper is something that we can not get back in stock," McKinney said. "We have people ask every day if we have toilet paper, and we actually stopped receiving shipments of toilet paper a month ago."
Along with grocery stores, daycares have also been allowed to stay open, but instead of getting large amounts of business, these care facilities have actually been losing business. At Kids RoundUp, one of Gretna's daycare facilities, parents have been pulling their enrolled children out of the program entirely.
"About 60 percent of our families enrolled have made the choice to stay home," Kids Roundup owner and director Lindsay Jeanneret said. "While most of these families have chosen to hold their spots, many have completely withdrawn from our program. These withdrawals were
caused by personal financial struggles and parents being laid off from work."
With the decrease in enrolled students, part-time staff members at Kids RoundUp have had to give up large portions of their hours. Sophomore Erin Armitage is one part-time worker, in particular, who has had to deal with this issue.
"Since a lot of kids left the program, they no longer need as many staff members on the schedule anymore," Armitage said. "They have been giving people fewer hours and have taken most high school and part-time staff members off the schedule for the month of April."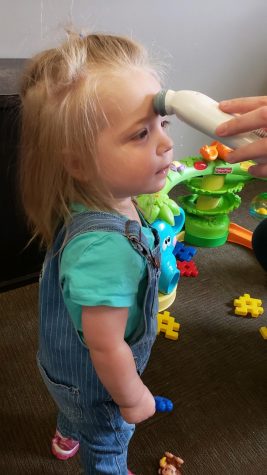 During the COVID-19 pandemic, businesses throughout the economy have learned how to adapt to social distancing guidelines. As a result of this, many people have been laid off from their jobs, an abundance of small businesses have permanently shut down their doors and people across the nation have dealt with a shortage of toilet paper, cleaning supplies, meat, baking goods and other goods that are in high demand.
View Comments (1)
About the Contributor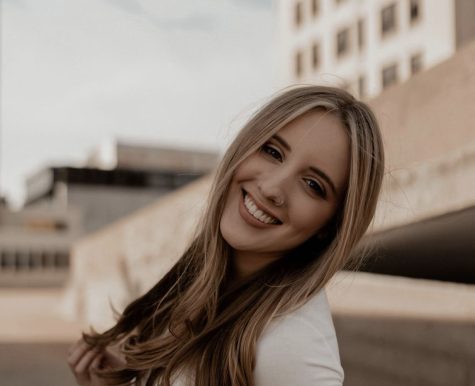 Kalei Renner, Yearbook Business & Advertising Manager
Kalei Renner is a senior at GHS and is in her first year on The Dragon staff; she serves as the Business and Advertising Manager. Prior to entering The...