Bored In Quarantine
Time to Pick Up New Hobbies
The shift to e-learning and being required to stay home has offered a large amount of free time to students. While some spend hours mindlessly scrolling on their phone, others, like sophomore Julia Otto, have become more productive than ever.
"Quarantine has been a time where I can just focus on me and my family," Otto said. "I have been doing projects around my house that I never had the time to do. This is unlike the summer because in summer you could go places, but now you are kind of forced to stay in your house so why not make the best of it."
While Otto has been cooped up in her house, she has grown a deeper bond with her family. It has become a routine for her family to go on walks every day, followed by a movie night. Almost every night they have been hanging out together.
"It is so nice to go on these long walks because it is really relaxing watching the sunset and talking with my family," Otto said. "It is funny because my dog might love quarantine more than anyone with all the walks we are going on."
A fun activity she did with her family was tie-dyeing. Everyone in her family got a white shirt and decorated it with a unique pattern  After that, she even painted a few canvases she had lying around her house. 
"Tie-dying was a lot of fun because everyone in my family did a different pattern," Otto said. "Not only did I tie-dye but I also have painted a few times. So far I have painted sunset and an eagle, but I am looking forward to painting more things next week."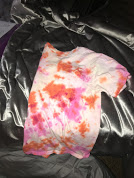 One hobby that Otto has been practicing is baking. Since quarantine has given her more time in the kitchen, she has been busy creating all kinds of pastries. Growing up, Otto loved to watch and help her mom bake, and now she is baking alongside her mom.
"I love baking, it is one of my favorite things to do," Otto said. "It seems that every week I am trying to create something new because I bake 2-3 times a week. I have baked cookies, cupcakes, cake pops, rice krispy treats, and other pastries."
Otto and her mom decided to get competitive in the kitchen. So they decided to have a bake-off. They decided to bake cupcakes and make their own toppings with the final product being judged by Otto's dad and brother. 
"The bake-off ended up in a tie," Otto said. "My dad picked my cupcake with the pink whipped frosting and my brother picked my mom's cupcake with the brown sugar frosting, but I truly think that they were both good."
Baking and hanging out with her family is not the only thing that Otto has been doing during this time. Another project Otto has taken on is redoing her room. Before most of the stores were closed, she bought the paint and equipment to keep herself busy. After she painted her room, she felt that her new room needed new decor, so she did the theme of plants and started to shop online.
"It was nice to have all this time at home to paint and redo my room because there was nothing better to do," Otto said. "I also loved online shopping because not only did I get cute room decor, but I also got some clothes from Pacsun."
E-learning has not taken up too much of Otto's free time. She has settled into a  routine of waking up, going on Zoom sessions, doing homework and taking naps, finishing all of that around 1 P.M. By doing so, she still has the rest of the day to herself for walks and hanging with her family.
"I really like the online learning because I can do it whenever I want throughout the whole week," Otto said. "It is also nice because at school I had to learn at the teacher's pace and now I can learn at my own pace, taking time on my assignments. It has also made me less stressed about always having something due the next day."
Although it has already been a couple of weeks in e-learning, Otto has future plans of staying productive and getting chores done. That being said, the quarantine has only made her more confident and ready to take on any projects that come her way.