Providing Different Media
Journalism 2 Binds Video Production With Design, Writing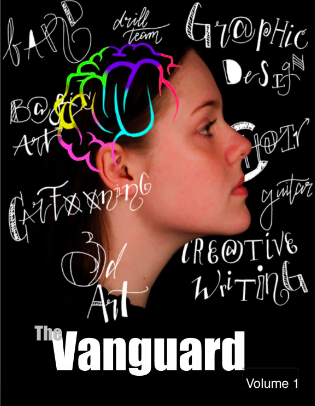 In room 623 fourteen students come together every day to create various acts of media. They write stories, publish magazines, produce videos and take photos. All of this occurs under the watch of journalism adviser Mrs. Gretchen Baijnauth, The Vanguard editor-in-chief Peyton Rewczuk and GNN Producers Maeya Gydesen and Lily Sullivan.
"I do not get to do anything like it in any other class," Gydesen said. "The software I am learning and videos I get to help create allow my technology, writing, leadership and creativity skills to expand so much. It is much more free and easy-going than any other electives I am taking and I get to be in control of what happens. It is my responsibility what the finished product looks like."
One aspect of Journalism 2 is video production. A smaller offshoot of the class headed by senior Maeya Gydesen and sophomore Lily Sullivan though they do receive assistance from the whole class. This team is in charge of all the video pieces produced for the newly branded Gretna News Network (GNN) YouTube account.
"This is the first year we are creating content for the YouTube channel," Gydesen said.  "We are doing feature, news, sports, and entertainment pieces. We are also going to start a show on YouTube called The Dragon's Lair which will be used to show off the best pieces we have."
The magazine, The Vanguard, is the main work of the J2 class. Their goal is to produce two magazines a semester.  The upcoming issue scheduled for Oct. 17 focuses on the 'Humans of Gretna'.
"Humans of Gretna" shines a light on people in Gretna that do cool things," Rewczuk said. "Like people who volunteer, or work with animals, different things like that."
Journalism 2 can be set apart from many other classes for many different reasons, the class provides creative freedom, prepares students for the future and teaches valuable time management ability.
"This is my first semester of J2, but it isn't my first publication class," senior Alex Suhr said. "I think the class is set apart because you learn how to discuss real-world problems without bias. There aren't any fluff pieces you focus on more current things than you would in other classes."
Ultimately, Journalism 2 provides its members. It provides a freeing environment that can inspire creativity and sharpen writing skills. Journalism 2 blends video production, more traditional print media and photography together into one unrivaled experience.

Find Issue 1 of The Vanguard here 
Find Issue 2 of The Vanguard  here
To watch GNN, click here