Sports fans across the globe are known for being very passionate and extremely loud when it concerns their team, especially American football fans. Ever since the NFL and collegiate seasons of football launched, there's been an unprecedented amount of fan violence occurring in the stands, and the crisis doesn't seem to be settled any time soon. Fans are engaging in full-on physical altercations while their favorite teams clash on the football field.
Nearly three weeks ago at SoFi Stadium, the Dallas Cowboys played the Los Angeles Chargers on Monday Night Football. During the game, a dispute broke out between the fans in the upper deck that resulted in a fan taking a punch to the face. Thankfully, many fans broke up the scuffle in an attempt to suppress absolute chaos, and the conflict could've been much worse. I also believe that any fans caught up in the conflict must be charged and possibly banned for life from all National Football League venue events.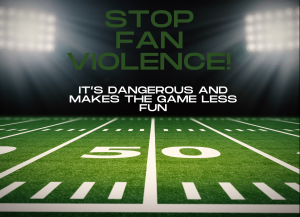 More than a month ago, on Sept. 17, a New England Patriots fan was killed as a result of a fan fight at Gillette Stadium in Foxborough, Mass. The Patriots played the Miami Dolphins that day when two fans of opposite teams got into a skirmish that resulted in death. This further proves my point that fans are honestly taking the game too much out of proportion, and they need to realize that it's just a game after all.
Another fight occurred during the San Francisco 49ers game against the New York Giants in Santa Clara, California, last month. The fight broke out against numerous Niner fans and resulted in injury. These are only a few examples that were actually recorded and seen by witnesses. Utilizing that logic, there are presumably several altercations that weren't documented or even had a bystander. But even three or four examples of fights show that there is a real problem. The concern also doesn't seem to be just an NFL subject, as it is also prevalent in many other social sporting events across the U.S. and even across the globe.
The NFL as a whole must respond to these recent events of violence and condemn the actions. If we don't do anything about it, the crisis will continue to increase. But the other side of the debate disputes that even if we add more security there won't be enough of it to actually monitor every stadium section. The majority of these fights result in physical harm. I believe something needs to be done to protect the lives of dedicated football fans.