GHS SkillsUSA Members Come Together
Three awards won at State SkillsUSA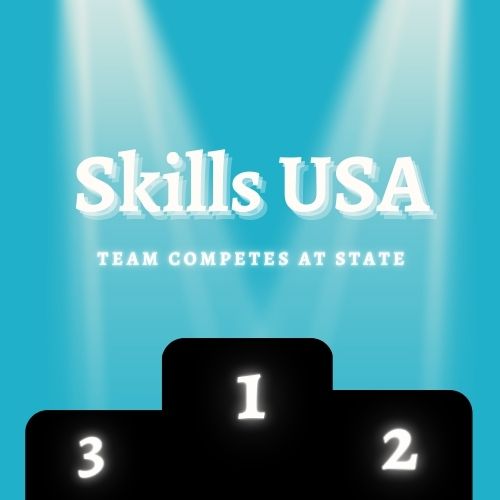 Every Tuesday morning at 7:30 a.m., around 20 students and three teachers meet in room 164 for SkillsUSA. The nationwide program for teens has been leveling up the technique of students who want to work in trades. It is for the students who aspire to be anything from a welder or a mechanic to being in the medical or cosmetology fields. SkillsUSA brings everyone who wants to work with their hands, all while sharpening their abilities and finding a new sense of community.
Their sponsors include: Ms. Kim Wasalaski, Mr. Jason Novotny and Mr. Zachary Miller
"The main goal is to get as many kids into trades as possible," SkillsUSA president, junior Hannah Wieczorek said. "Same thing, like nursing, welding, cosmetology. Get as many kids in there as we can. If they end up not doing it, they at least know what it is all about."
After Wieczorek joined her sophomore year, she instantly knew that she should have started when she was a freshman. This year, she made it to state SkillsUSA with a second place finish in the category "welding sculpture." Senior Grant Sila took first place in the category "carpentry" and junior Wyatt Zeleny won first place in "plumbing."
The state competition happened in Grand Island from April 13-15. State brings the chance for students to explore job opportunities, college scholarships and have prizes donated to the school.
"What I've learned (from SkillsUSA) is definitely getting to know people and being more social and more confident with myself," Wieczorek said. "As an impact for my future, it kinda cleared it up for me. At first, I was like, 'Oh, I want to be a welder',, but there are so many different things and I figured out that I like to do custom sculptures, and I want to pursue that in my future."
While Wieczorek still has her mind set on being a welder, freshman Grace Kempkes wants to work as a labor and delivery nurse. Since there are not very many opportunities for freshmen to experiment with the medical field, Kempkes joined SkillsUSA to get a headstart on her career.
"It sets me up for my career path, and it's really getting me started," Kempkes said. "It's getting my feet wet in what I want to do in life."
With a recent jump to 20 participants compared to 12 last year, the current members spend some of their time on fundraisers and giving back to the community. Most recently, they made goody bags for a local nursing home, Azria Health Gretna. Their next task was attending a bingo night with the Hillcrest Nursing Home.
"I'm glad that we've learnt to help each other and being able to be a community and a little family," Kempkes said.
Overall, SkillsUSA helps students at GHS to create an environment where everyone is welcome and to gain more knowledge. While helping the community, each member gets the chance to improve themselves with the support of others.
Leave a Comment