Opinion: Analyzing the Creighton Basketball Starters
Creighton men's basketball is on the rise; winning their last seven games. Despite the rough start to the year, these five starters have done everything in their power to turn the program around and get it on the right track.
Ryan Nembhard is a sophomore who has been more than outstanding these first two years. He began his freshman year as a starter, which clocks him into the fifth in Creighton history to do so. He has done a nice job of clearing up his turnovers per game from 3.1 last year, to 1.9 this year and has stepped up and taken more of a facilitating role to control the pace for the team. As of now, I think he should stick around another year or so to get a little bigger and perfect his craft. As a six-foot and 170-pound player, it is hard to go professional. Skill wise, he could be drafted this year, but, if so, it would be late round if anything.
Trey Alexander is a sophomore and just like Nembhard. He has been better than anyone could have asked for these first two years. He has done a nice job of being more of a scorer compared to his role on the team last year. Alexander has upped his three-point percentage from 28 percent to 40 percent, which is a huge jump within just a year. On the professional side, I could see him being looked over during the draft and being drafted late in the second round. There is a possibility that he could go undrafted, but whoever picks him up will get a good one. He has an NBA ready body, clocking in at six feet four inches and 190 pounds, which is a perfect shooting guard role.
Baylor Scheierman is a senior transfer out of SDSU as the 2021 Summit League Player of the Year. He came to Creighton for more exposure after being predicted late second round in the draft, and he has gotten exactly what he wanted. Scheierman's points and percentage dropped slightly, but that is what will happen when you transfer from the Summit League to the Big East and play bigger, better guys. From this year being the only year I have watched him play, there is one thing to take away from him; the guy can shoot lights out. I could see him being drafted late in the first round due to his big frame and consistent shooting.
Sophomore Arthur Kaluma has been a little less than expected after having a break-out at the end of the season last year. Everyone anticipated him to be the next star. I still think he is a phenomenal player. It is just that he got too in his head and started forcing shots and passes, trying to do too much. His field goal percentage dropped a slight two percent, though his three-point percentage went up five percent. Despite having an underwhelming season so far, he is still a dominant scorer and has an NBA ready body that I could see being drafted late in the first round.
Ryan Kalkbrenner is a junior who has improved a bunch on both ends of the court. As of now, he is leading the NCAA in field goal percentage at 73 percent, which is outstanding. He has been a more dominant force in the paint this year which has brought players to double team him on the defensive end; leading other Creighton players wide open for threes and driving lanes. For the NBA draft, I could see him in the middle to late first round.
Creighton is a superior team who is on the rise as they veer towards the end of the season. Their players are continuing to improve with each game, expanding their craft as the season progresses.
View Comments(1)
About the Contributor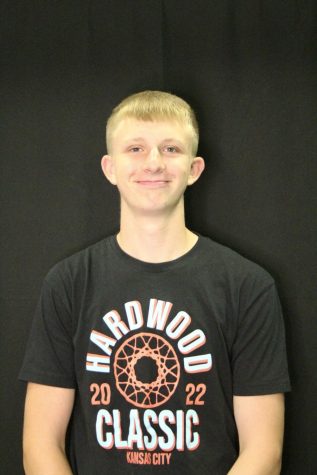 Drew Rhoades, Reporter
Drew Rhoades is a sophomore at Gretna High School and is in his first year on the journalism program. He serves as a reporter and photographer for Gretna...