Competition Season Now Underway for Jazz Band
Groups Set to Perform at Elkhorn South, UNO
Jazz can have many different meanings in the music world. It could be soothing, high energy, old-fashioned or all of those in one. The music itself is mainly a mix of trumpet, trombone, saxophone, piano and drums. The Gretna Jazz Band shows the importance of jazz music as they work their way up to the top.
"The experience of being in a jazz band is actually pretty fun because you get to meet new people who are engaging in band and the teachers there are very nice," freshman Arturo Hernandez said.
The GHS jazz band has two directors and two jazz groups. Mr. Noah Hickman is the director for Jazz 1 and Mr. Alexander Woodside is the director for Jazz 2. Both Mr. Hickman and Mr. Woodside's are first-year teachers at GHS.
"You want people to see and recognize and appreciate the work they did to put the music together," Mr. Woodside said.
Recently, the jazz band went to the Westside Jazz Festival where they performed five songs and received many well-earned compliments, as well as great learning experiences by watching other bands. They also hosted The Brew at GHS while the community socialized with foods, drinks and great live music by the jazz band.
"I think music is a welcoming environment to some extent," Mr. Woodside said. "It gives students an opportunity to experience community and collective effort towards a common goal that you don't always get to experience in other activities."
The jazz band will perform at the UNO Jazz Festival on Feb. 24 with many other extraordinary groups in the area. They will also participate in the NSBA Jazz Festival at Elkhorn South as well.
"Each band received an on stage clinic with one of the judges and an improvisation clinic with the Jazz Studies professors from UNO. The students had a great time performing and watching other jazz bands perform," Mr. Hickman said.
As the season continues, events become more challenging with each song having lots of entertaining rhythms in them. With all of the work the group has put in, they have shown tremendous improvement.
"It doesn't take long to learn songs, but it takes a while to clean and polish each part," Mr. Hickman said. "We started rehearsing in mid November for our Brew concert and Westside Jazz Festival. Jazz 1 has started polishing new songs for their performance at UNO in late February."
The jazz band's season is short, but there is a lot of time and effort required to prepare the students for the festivals and concerts throughout the year. Hard work and dedication will take the lead this season.
Leave a Comment
About the Contributor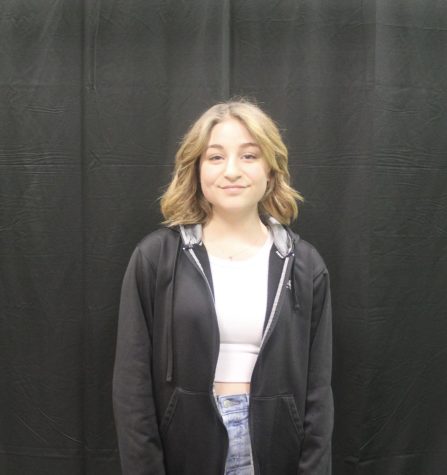 Abigale McQuain, Reporter
Abigale McQuain is a freshman at GHS and this is her first year with Gretna Media. She serves as a reporter. She is interested in journalism because she...