Embracing the Dragon
Students Dress Up For Spirit Week
Gretna High School's Spirit Week looks a little different this year. Because of an extended weekend, it is stretched out across two weeks.
"We wanted to make sure that the long Labor Day weekend would not take away from how many days we get to dress up for homecoming," said Student Council President Kiera Morgan. "That is why we are doing two spirit days before Labor Day and the other three after." 
Labor Day weekend will maybe affect Spirit Week because students and teachers might forget about it by the time they come back from the four-day weekend. Student Council chose themes they thought everyone would like and participate in.
"We brainstormed and then picked the themes we thought worked the best and would be the most fun for students. We really really wanted to do Anything but a Backpack, where kids would put their books and laptops in different funny and unique modes of transport," said Harper Wood, Student Council vice president.  
Due to the large number of students in the building this year, the halls would be too crowded for this idea. Some of the other proposed themes were, Welcome to the Jungle, Cops and Robbers, Senior Citizens and Construction Workers. 
In the end, those were overruled, solidifying the following themes: 
9/1 – Throwback Thursday 

9/2 – FBI Friday

9/7 – Adam Sandler

9/8 – Country vs Country Club 

9/9 – Class Colors (Freshmen: Yellow, Sophomores: Green, Juniors: White, Seniors: Black)
"Our view or 'vision' for this year's Spirit Week was to do fun and new themes that wouldn't be too costly. Most of these themes are already in people's closets," Wood said.
Once the themes were approved by administration, Student Council posted the schedule on their Instagram. Hats are allowed, but only if it is part of a students' outfit on that day. Even with the extended weekend splitting it up, Spirit Week is underway, preparing the school for homecoming on Friday night.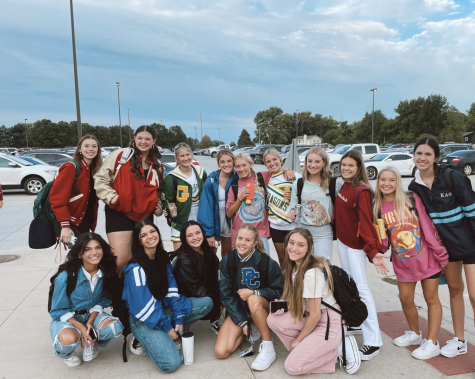 Leave a Comment