"RED (Taylor's version)" Has Lots of Style
Fans go Crazy and Review Swifts New Album
Music is my main way of escaping things. I listen to music everywhere, from jamming out in the car to when I'm sitting in class. Music calms me down when I have a bad day. New albums are coming out all the time, but one of my favorite albums is "Red (Taylor's version)."
The pop star Taylor Swift's music has been wildly popular for as long as I can remember. Her songs are everywhere, on the radio on Apple Music and Spotify and almost all her songs make the Billboard 100. Her music has inspired me to live out my dreams.
Her most recent album "Red (Taylor's version)" came out on Nov. 12, 2021, her album was everywhere after that. The album was a rewrite of her original album "Red". It was also really popular because she had some unreleased songs like the 10 minute version of "All Too Well" and she also added new songs like "Nothing New." The album also had some of her classic songs from "22" to "We Are Never Getting Back Together."
It was really important that she left many of her original songs on the new album because the listener can see how much her voice has improved from when the original album came out in 2012. Almost all the songs on the album are brilliant and touch people from all different corners of the world.
Swift created the new album because Scooter Braun the owner of Big Machine Records, who owns her original albums, receives almost all the money from those albums Swift has spoken out many times saying how she finds it all unacceptable. Swift decided to re-record all of her albums. Swift now receives most of the money for her re-recorded albums. The albums are even more popular than her original ones
The songs on her album show multiple emotions, and I can hear each one when I listen to the songs. I hear heartbreak, sadness, anger, and happiness. Not many musical artists can share their emotions through their songs. That is what makes "Red (Taylor's Version)" one of my favorites of all time. Taylor's music allows her listeners to feel their own emotions when listening to her songs. Although Taylor's songs alone are great, I really enjoy the duets that she does.
When I listen to music I love to feel the emotions of the artist who wrote the song, overall I think that this album is great and beautifully written and Taylor Swift did a great job and my readers should listen to it immediately.
Leave a Comment
About the Contributor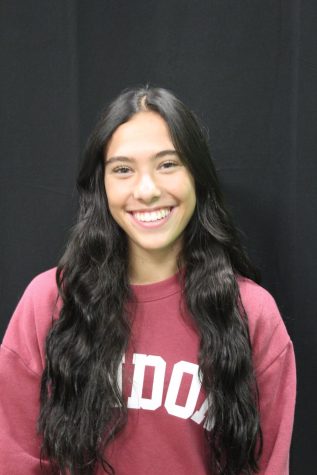 Maddie Almquist, Reporter
Maddie Almquist is a sophomore at GHS and this is her second year with Gretna Media. She serves as a reporter and a photographer. She is interested in...