Logging On
Online Students Work Their Way Through Zoom With the Help From Teachers
Online Students Work Their Way Through Zoom
In March of 2019, the popular alternate "facetiming" service "Zoom" rose to the top of the charts in the app store. Since its use in Gretna began to take off, teachers all over the district have used it to connect with students. At the school, students could choose to do e-learning at home over Zoom or continue to learn in person. Many differences in technology problems, not the same teaching methods and no one to one help made teaching over Zoom very different than teaching in person.
Some classes just don't work on Zoom. Some classes are harder to teach over Zoom, because there is no human interaction or hands on activities. This created issues for the teachers such as how to help the students retain the information and fully understand the topics being taught. While some classes may seem easy to do via Zoom, students taking Calculus and Physics may be struggling more. Many students online are not able to reach the same level of success as they would in an in school situation.
"When you have a class of students in-person, it's hard to give the online students the same level of attention and interaction," math instructor Dr. Jerry Arnold said. "I also think it disadvantages students who need that personal touch; having the teacher be able to look over their shoulder and offer help when it's needed."
Students work and perform at different rates depending on how successful and productive their environments are. When teaching subjects like math over zoom, it could be difficult for certain students to comprehend the subject matter. Dr. Arnold tried his best to engage students online and answer the questions they typed into his chat. He posted all the material students used in person to Google Classroom for students on Zoom. Before lockdown, he used his Ipad to project his work and equations onto the board, so sharing his screen with Zoom students was not as different. But it could still be challenging for struggling students to receive the help they needed over computers, especially when learning a foreign language.
"Communication and interaction are so critical when learning a language, and it is really hard to facilitate that over Zoom," Spanish Instructor Señora Cailtlin Allely said. "Students are generally less vocal and interactive with each other, especially if there are only one or two distance learners in a class."
At the beginning of the hour, Señora Allely lets all Zoom students into her online classroom and greets them. All of the material was posted on Google Classroom or screenshared. When taking speaking tests or assessments, students on Zoom turned on their microphones and answered questions. Señora Allely helped her students online the best she could and tried to create a support system for them to feel comfortable with their class and teacher. Students on Zoom had a different perspective than their teachers, though.
"Zoom helped me be able to control my learning environment better," distance learner sophomore Amanda Yuan said. "I do struggle with being isolated and actually missing seeing my friends at school."
Online learners' experience with Zoom was a big change to the one they were used to at school. The level of learning the student achieved at home depended on how much effort and patience they were willing to put in. Many students also did not have a choice when it came time to go back to school. Either for safety reasons or family decisions, not everyone was allowed to return to the classroom.
In all, Zoom had been a very easy, accessible tool for many teachers across the nation. Although some students struggled with learning from home, many of them thrived like they would in person. Teachers have done a lot for students online and at school by changing their schedules to make both sets of kids a top priority. By using Zoom, teachers gave those staying safe at home the same chance to learn as those at school.
Leave a Comment
About the Contributor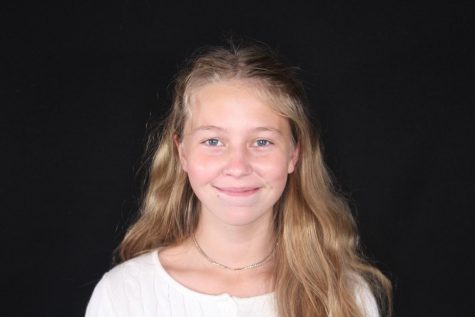 Claire Sallee, Staff Reporter
Claire Sallee is a sophomore at GHS and in her first year on The Dragon Staff. She serves as a Staff Reporter. She is involved in journalism because she...