Making a Comeback
Side-Kitchen Opens After Temporary Closure, Marketing Classes Design Logos
At the start of the school year, the GHS lunch department closed down its side-kitchen. Since the closure, students have only been able to receive their lunches through the four main serving lines. With this change, students have been forced to wait in long lines, limiting the amount of time they have to eat. Depending on staff numbers, in an effort to reduce the number of students waiting in these lines, the lunch department will re-open the side-kitchen at a future, unannounced date.
"Having the kitchen open makes all lines shorter, service time faster and allows students more time to eat, relax and socialize," FANS (Food and Nutrition Services) Director Mrs. Sharon Schaefer said. "As we continue to grow, having more places to get great food will continue to be important. We hope that hiring the two new people will happen very soon."
In the fall, some kitchen staff members left the lunch program due to increasing COVID-19 concerns. With these absences, the lunch department struggled to assign staff members to the side-kitchen.
"The second kitchen requires two staff members to operate it," Mrs. Schaefer said. "We have hired a new GHS manager (chef Ms. Rachel Bowden) and replaced an open full-time role, but there continues to be two openings for 25 hours a week."
Until the lunch department is able to train two new staff members, the side-kitchen will remain closed. In preparation for when the side-kitchen can re-open, principal Mr. Todd Mueller requested marketing teacher, Ms. Chris Swantek, to have her marketing classes design potential logos for the side-kitchen. Both her fall and spring marketing classes helped design and name the logos.
"Mr. Mueller stopped into class one day as students were presenting their final semester projects, which was to develop a new cookie to sell," Ms. Swantek said. "He then talked to me and asked if I would be interested in having the marketing classes submit ideas for the side-kitchen as they were hoping to get it staffed and back open soon; he asked me to provide him with what I felt were the top three logos for the student body to vote on."
In an email Mr. Mueller sent out to the student body on Wednesday, Jan. 20, GHS students were given the ability to vote on four potential side-kitchen logos and names in a Google Forms titled "Side Kitchen Name Survey." This survey is still available to GHS students in their emails.
"I thought the marketing classes did a great job," Mr. Mueller said. "I thought it was a great way to involve the students and take ownership in their school. I also certainly hope they (the lunch department) can open it sooner to add more variety and lessen the pressure on the other lunch lines."
When the side-kitchen reopens, students will be able to choose from a variety of grab and go salads and sandwiches. The lunch department, as the school year progresses, will also be launching a spring menu featuring new salads, specialty pizzas and a Greek bowl along with adding a new element to Nutrislice, a free downloadable app that shares the daily lunch menus, where students will be given the ability to pre-order selective food items.
"The lunch department will continue to add fresh and local items to the spring menu," Mrs. Schaefer said. "The new manager, Rachel Bowden, is a chef. What she is capable of culinary wise will really know your socks off! We are also looking for creative ways to get back to 'The Chef's Table.' This is where a small group of culinary ambassadors helps us taste and plan new items. The feedback from students is so important."
Since GHS opened to the public, many lunch department staff members resigned from the kitchen, leaving no staff members to operate the side-kitchen. Until Mrs. Schaefer can hire and train two new staff members, the side-kitchen will remain closed. The winning logo from the marketing classes will be announced closer to the opening date of the kitchen.
Leave a Comment
About the Contributor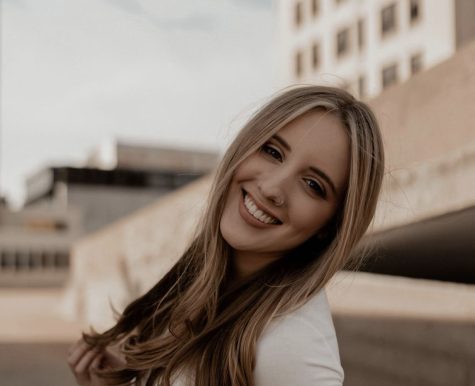 Kalei Renner, Yearbook Business & Advertising Manager
Kalei Renner is a senior at GHS and is in her first year on The Dragon staff; she serves as the Business and Advertising Manager. Prior to entering The...