The Dapper Doughnut
Hot, Fresh, Miniature Doughnuts
The Dapper Doughnut, located at 16827 Q St, Omaha, Neb., offers customers miniature sized, gourmet styled doughnuts. According to The Dapper Doughnut, CEO and co-founder, Mark Publicover, established the facility with aspirations to provide customers with hot, fresh doughnuts.
Upon walking into The Dapper Doughnut, my companions and I were instantly greeted with a complimentary bag of five miniature, warm donuts coated with a cinnamon-sugar topping. This bag of doughnuts is offered to everyone that walks through the door. As we scanned the interior of the cozy building, I noticed that the entirety of the facility consisted of two tables adjoined with light blue, metal chairs. Not only that, but the kitchen was fully visible, so we were able to watch as the miniature donuts were fried and topped with the toppings.
During my visit, I purchased six donuts: bananas foster, fruity pebbles, Nutella dream, original glazed, apple pie and funnel cake. Even though I was able to purchase six different flavored doughnuts, The Dapper Doughnut generally only allows customers to choose a maximum of two flavors per every six doughnuts purchased for $4.99. Applying this rule to additional quantities of doughnuts, customers can choose up to four flavors per 12 doughnuts for $7.99, six flavors per 24 doughnuts for $14.99 and 10 flavors per 48 doughnuts for $27.99. While I see the logic in this quantity method, I feel like customers should be able to purchase as many flavors as they want with however many miniature doughnuts purchased. This would not only give customers the opportunity to expand their taste experience, and it would provide an opportunity to know what to order on their return visits.
Even though I disagree with the number of flavors offered for the available quantities of doughnuts, the flavored miniature doughnuts that I was able to try were mouth-watering. The warmness of the doughnuts combined with the luscious flavors made my taste buds crave more. Given the deliciousness of the doughnuts, I ended up consuming all six purchased doughnuts. The only doughnut that did not impress me was apple pie. The apple pie filling overpowered the doughnut itself, and it felt as if I was only eating apple pie filling and graham cracker topping.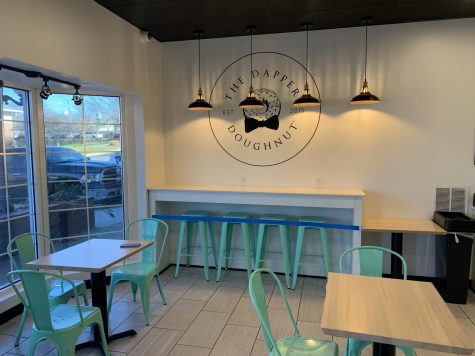 Towards the end of my visit, I buckled and purchased a blended caramel coffee beverage. For $4.25, it was reasonably sized and was topped with whipped cream, caramel sauce and a miniature, cinnamon-sugar doughnut. I personally thought this coffee drink was immaculate in taste and was neither too sweet nor too bitter.
The Dapper Doughnut features hot, freshly made, miniature doughnuts along with coffee products, loaded hot chocolate, refreshers and doughnut sundaes. Along with that, they offer a variety of seasonal doughnut flavors depending on the time of year. So, if you are interested in purchasing holiday flavored doughnuts, head to The Dapper Doughnut and try their maple joe, apple cider cinnamon and peppermint vanilla doughnuts.
Leave a Comment
About the Contributor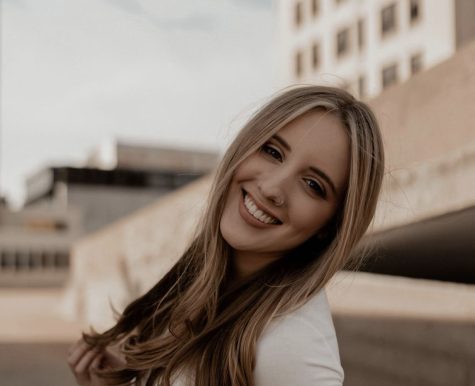 Kalei Renner, Yearbook Business & Advertising Manager
Kalei Renner is a senior at GHS and is in her first year on The Dragon staff; she serves as the Business and Advertising Manager. Prior to entering The...