Train to Gain
Girls Soccer Begin Season
Players and coaches train before the season starts in order to be prepared to compete against their opponents. Whether it is sprints for conditioning or lifting weights, each team gets ready for the season ahead. When spring sports were canceled due to COVID-19 in March of 2020, the girls soccer team had just finished up try-outs and were waiting to compete in their second season in Class A and on the newly-renovated turf field. Head Coach Mr. Digger Hawkins can not wait for the spring season to begin.
"With us not having a season last year due to the pandemic," Coach Hawkins said. "It makes it even more special to finally step onto our brand new turf field."
For the 2020-2021 season, the first varsity games plan to be an invitational at GHS on Friday, Mar 19, 2021. To prepare, the players participate in strength and conditioning, open play and sports metrics. Strength and conditioning trains players physically with body muscle and conditioning gets everyone in shape for the endurance required on the soccer field.
"One of our main goals for preseason is to make sure each player builds up their fitness and to try to peak at the right time," Coach Hawkins said. "It's a heavy balance as many have come off of tough club seasons."
Aside from strength and conditioning, most participate in open play and sports metrics. Open play is where the team can build on their strengths and weaknesses. Freshmen or new players learn how the upperclassmen move the ball and like to play. Along with learning about one another, open play teaches basic skills and allows players to get used to playing with one another again.
"For returning players, some of our strengths are moving the ball quickly, using the width of the field and getting the ball to our outside players," assistant coach Ms. Alicia Elsenpeter said. "Some things we need to work on are winning battles in the air, finishing our shots and making dynamic runs."
As a whole, the team experienced several major injuries in the past couple years, so the coaching staff used sports metrics as a tool for injury prevention. Sports metrics consist of jumping, landing, workouts, fitness and stretching. Before every workout or training, the team stretches to prevent tearing or straining any muscles.
"Injury prevention also plays a key role in what we are trying to achieve," Coach Hawkins said. "You can learn alot about players during this time."
As the team continues with preseason training, the season is inching closer and closer by the day. While having two freshman classes and the juniors only having one season under their belt, the seniors look for different ways to lead the team and help prepare the young girls for what the season will be like. Training hard during preseason can make or break a team but the girls teams are prepared for their second season in Class A.
Leave a Comment
About the Contributor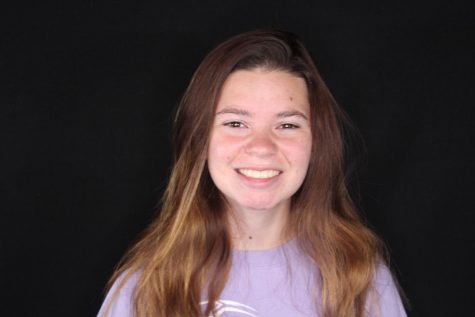 Savannah Andrews, People Editor
Savannah Andrews is a junior at GHS and in her second year in The Dragon Staff. She serves as a People Editor. She is involved in journalism because she...