Therefore I Am In Love
Billie Eilish Song and Video Release
The award-winning singer-songwriter Billie Eilish released her new song, "Therefore I Am" on Nov. 12. It is Eilish's third single of 2020, proceeded by "My Future" and "No Time To Die." Her new single was also released on Spotify, Apple Music and Youtube with a music video, which currently has over 50 million views.
With this in mind, I definitely had high expectations for her new single. When I first listened to the song, I was in the car on my way home from work; it just happened to play on the radio. Let me just say, my expectations were certainly blown away. Although Eilish's music style tends to be more on the darker side, this song stood out to me.
What I particularly liked about this song is that she switches from singing to adding dialogue throughout the song. Although that is not every artist's style, I enjoy it because it adds more depth to the meaning of the song. I personally feel that I get a better understanding of what the artist is trying to get across to listeners. I also think that it adds a layer to the music and makes the song more interesting rather than just a few verses and a chorus.
One of my favorite lines in the song is, "don't talk 'bout me like how you might know how I feel, top of the world, but your world isn't real, your world's an ideal." I really like this line because I think Eilish is calling out the people who try to relate to her, but only see her through the public eye. Eilish is trying to get the point across that all of the criticism she faces does not bother her.
The video for "Therefore I Am" is without a doubt what I expect a Billie Eilish music video to look like. The chorus, "I'm not your friend, or anything, you think that you're the man, I think, therefore, I am," according to Genius.com, means the idea behind the chorus linked to the video "as she mischievously grabs snacks from different stores, as if she's blatantly telling the audience that she does not care about the criticisms."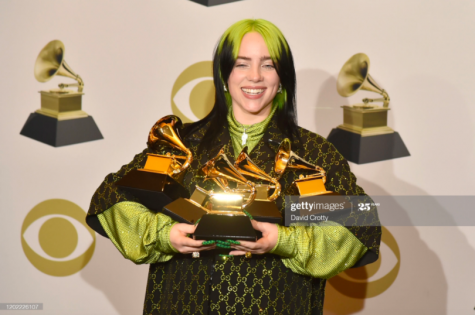 I greatly enjoy the video because it provides a sense of comedy as she mockingly looks at the camera running through the mall and jumping over countertops. My favorite part of the video had to be toward the end, where Eilish is singing to the camera holding food and singing with fries in her mouth.
I recommend this song to anyone who is looking for a more interesting listening experience. If good music is not enough for you, her music videos are just as excellent. Eilish does a great job providing listeners with a different perspective of what music can be. I would rate this song 5 out of 5 stars.
Leave a Comment
About the Contributor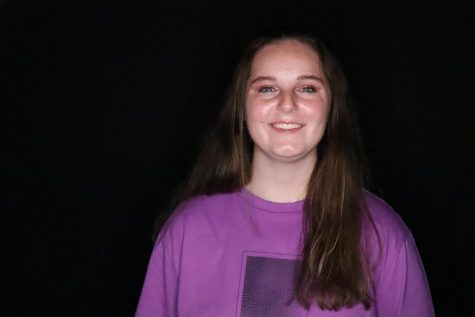 Lauren Eurich, Design Editor
Lauren Eurich is a senior at GHS and in her third year on The Voice staff. She serves as the design editor. She is involved in journalism because she has...