New Faces, Same Dragons
Freshman, Defense Pave Way to Gretna's First Victory
The 2020 basketball season tipped off for the Gretna Dragons with a neutral site game at Omaha Central against the Omaha North Vikings on Thursday, Dec. 3. After losing key players from the 2019-2020 campaign, the Dragons turned to an almost fresh starting five featuring freshmen Landon Pokorski and Alex Wilcoxson, junior Grant Jansen and seniors Quinn Frost and Blake Rose. The style of play was not altered from the previous seasons for the Dragons, as a disciplined and defensive game plan was executed near flawlessly.
"We were just trying to do what we could control," Pokorski said. "We thought that would give us the best chance to win."
Despite the first quarter being played almost entirely inside the paint, most of the scoring came from behind the arc, including two three pointers from Wilcoxson. Both teams knocked down two threes in the first, en route to an 11-8 Dragons lead at the end of the quarter.
"I just let my body take over," Wilcoxson said. "I trust that my reps that I have already taken will help, and I will make the shot."
The strong defense Gretna displayed in the first quarter seemed to disappear. To begin the second quarter, Omaha North went on a 9-0 run behind three, three-point shots, giving them their first lead of the game 12-13. However, Wilcoxson stepped up and nailed a three of his own, which began a burst of 15 points. The run would be enough for Gretna to regain the lead 26-16 by halftime. Even though it was the season opener, the defense appeared to be anything but fatigued in the second half. The Vikings had trouble finding open looks anywhere and settled for contested shots on a majority of possessions in the third quarter. Gretna was able to maintain a double-digit lead to end the third, on top 39-25.
"We ran a zone to protect the paint more because Omaha North is not a shooting team," Frost said. "It was very effective because they had one shooter who shot well, but other than that they did not shoot that well."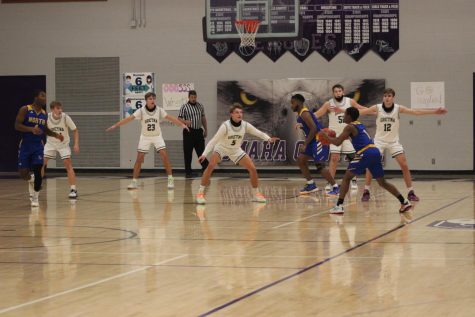 Starting the fourth quarter with a fourteen-point lead meant the Dragons could play conservative, but they did not let up. They kept their foot on the gas long enough to turn the contest into a "foul game." Although the Dragons would struggle from the line, the defense held strong and propelled the team to a convincing 49-35 win over the Vikings.
"When they pressed us, they were trying to speed us up, and that is where we struggle," Frost said. "But we stayed to our gameplan by slowing the game down and sticking to what we can control."
There was plenty of positives for head coach Mr. Brad Feeken to take away from the game, like solid performance from Wilcoxson, who had nine points, one rebound, one assist, Frost, nine points, four rebounds, four assists and Pokorski, 14 points, nine rebounds, one assist. Along with that, the Dragons had a great game on the glass, out-rebounding the Vikings 30-17. Nonetheless, there is room for improvement on the early season, specifically from the free-throw line, as Gretna shot 12/21 (57.1%). With the victory, the Dragons will face Omaha Central on Saturday, Dec. 5, 2020, in hopes of improving to 2-0 on the season.
Leave a Comment
About the Contributor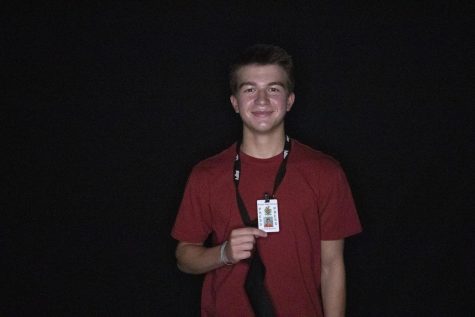 Matthew McKinney, Staff Reporter
Matthew McKinney is a senior at GHS and in his first year on The Voice Staff. He serves as a reporter. He is involved in journalism because he feels strongly...