Virtual Happiness
Online Concerts Replace Live Shows As Pandemic Drags On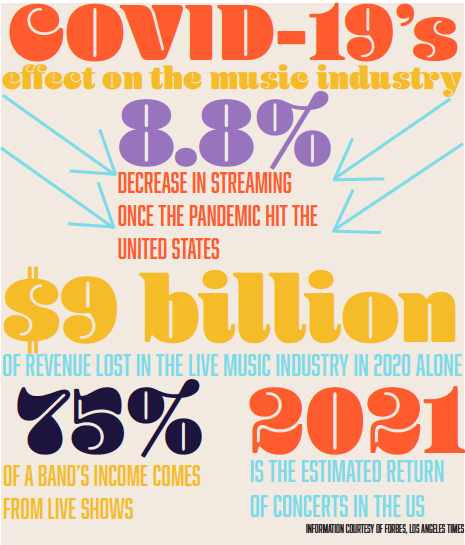 As the pandemic took hold and the world began to shut down, large gatherings were canceled. This had a major impact on the live music industry and artists themselves. With music becoming less profitable in the digital streaming age, musicians rely on the income they make from touring. Touring provides an opportunity for artists to promote themselves, as well as to interact with fans. For example, Korean pop band BTS made 23 million dollars from streaming on Spotify in 2019 and 2020. However, from their 2019 stadium tour, they made 117 million dollars. With at least two years worth of income lost, artists and their labels are scrambling to make up for that lost money, and they have come to one solution, online concerts.
These concerts exploded in popularity during March, first as a temporary solution, but as the problem grew bigger and tours continued to be postponed, it became an attempt to keep artists connected with their fans and for their labels to make some sort of money.
The most popular approach to online concerts is a livestreamed show. In March, these livestreams were often done for free on social media platforms or as fundraisers similar to the "Together At Home" festival that Global Citizen hosted, featuring artists such as Lady Gaga, John Legend and Shawn Mendes. Online concerts were something to do while we were stuck at home, now they are a valuable way for artists to connect with their fans.
"I think online concerts are a good solution in this pandemic," sophomore Gabby Ochsner said. "The BTS one was really well done and you still have that surreal feeling of happiness after it's over. I like the idea of seeing my favorite artist perform from my bed and in my pajamas."
As someone who had tickets to four concerts this year, including my favorite band, BTS, I was devastated as the cancellations continued to roll in and my hopes were dashed right in front of my eyes. However, online concerts saved the day, well, sort of. Over the course of this year, BTS hosted three online concerts, the first of which being an event where they livestreamed their old concerts called Bang Bang Con. In June, a follow-up, Bang Bang Con: The Live, was held, a show that celebrated the group's 7th anniversary. Finally, they hosted Map of the Soul: One, a 2-day live event that showed what the group prepared for their now postponed concert. BTS is just one example of many that show livestreamed concerts are a profitable solution, but that they can only work temporarily. The concert had one of the highest turnouts that any livestreamed concert has seen, nearly one million paid viewers tuned in (not counting those who watched illegal streams). The group made a 40 million dollar profit from just livestreams alone. However, this profit pales in comparison to the 241 million dollars they could have made from their tour that was planned for 2020.
Another approach to online concerts has been a drive-in and a drive up. Groups like AJR and Metallica have hosted concerts in this format. Fans of rock group Metallica could pay $115 and drive to a local movie theater to watch a pre-recorded show that lasted two hours. Alternative band AJR decided to hold a concert that fans could actually attend, in the safest way possible. They hosted a live two-night drive-in concert in Philadelphia. Fans were required to stay in their cars and listen to the show via a channel on the radio. If COVID-19 sticks around for a while, this could be an option that music listeners see other artists start to explore.
Let's be honest here, the top of the music industry will survive. Taylor Swift won't be homeless because she could not tour this year. The CHI Health Center won't have its doors closed forever. The people that have been the most impacted by this are small touring musicians and local venues. Omaha-area venues like the Slowdown rely on shows to keep their doors open.
"Our industry as a whole has very much been in the "first businesses to close, last to fully reopen" category," Slowdown owner Jason Kubel said. "We were closed on March 13 and have not done much since…just a few outdoor shows and some streaming events. There is a problem both gathering people in indoor spaces (safety) and bands not touring. In the process we've also lost all of our staff. So, in short, the effect on us has been pretty unimaginable."
There is a solution to help these local venues in need. Save Our Stages, a campaign by the National Independent Venue Association, provides people with the link to contact their elected representative to show support for a bipartisan relief bill that would keep nationwide venues from closing their doors forever. According to their website, nearly two million letters have been sent.
Promoters are developing a plan of what a return to in-person concerts would look like as potential vaccines become more promising. According to Billboard, Ticketmaster is looking for concert-goers to provide proof of a COVID-19 vaccination or a negative test in a 24 to 72 hour window prior to the concert. While this policy will vary from state to state, Ticketmaster will not have access to medical records and will still be in compliance with HIPAA.
While it is not certain when we will see the return of concerts, there are temporary fixes to this issue that benefit both parties. Online concerts can tie music fans over for a few more months. Personally speaking, I don't care if Ticketmaster asks for my social security number, I'm willing to do whatever it takes in order to go to a live show once again.
Leave a Comment
About the Contributor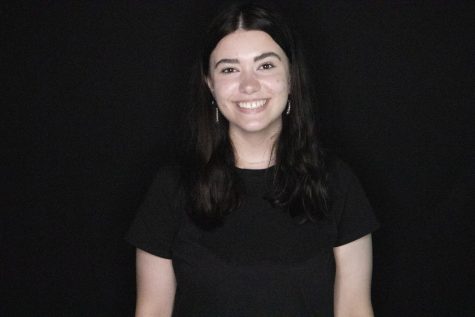 Kaleigh Zollman, Online Editor
Kaleigh Zollman is a junior at GHS and is in her third year on The Voice Staff. She serves as the Online Editor for GretnaMedia.com and Copy Editor for...