Three Week Proclamation
Nebraska's Direct Issue of Health to Residents.
On March 19, Gov. Pete Ricketts announced the three-week procedure to help stop the spread of COVID-19 in Nebraska. In these 21 days, people were ordered to go to work then go home. Send one person per family to the grocery store once a week. Children were encouraged to stay home at all times but it was not an enforced order.
Businesses were shut down all throughout Nebraska. Places like salons, tattoo shops, barbershops, massage, chiropractor, and theaters were closed due to a new health issue. Those businesses are to remain closed until April 30.
"I think it is important that way this can all go away as fast as possible so we can get back to normal life," freshman Zoe Schuka said.
The essential workers are asked to do what is necessary in order to keep themselves and others safe and healthy. Nurses, doctors, and all workers in the medical field have to take extreme precautions when it comes to their jobs.
"As a nurse practitioner I see all the acutely sick kids or those with injuries and lacerations, we have to check out masks from our managers' office and are only allowed one per day to the fact that there aren't enough," Mrs. Rochelle Schuka said. "All people at the clinic have to wear masks, we see healthy kids in the morning and the sick kids in the afternoon."
While parents that work an essential job are gone, kids are at home following the restrictions of the shutdown. Since the new system involves only adults going to the store and to work and back, kids are urged to remain home. This is changing livelihoods and affecting daily schedules.
"I don't get to play softball or see my friends, which is what I would usually be doing at this time," Zoe Schuka said. "My mom is a nurse so she is very strict about social distancing but I think it's important."
The whole point is to "flatten the curve" of COVID-19. That is why people are being asked to remain home and continue social distancing. The Governor believes that the next 21 days will be extremely crucial because we have not hit our peak as a state yet.
"I think this shutdown is important because we need to flatten the curve," Schuka said. "Unfortunately you can spread COVID-19 without showing symptoms and if too many people get it there won't be enough supplies at hospitals."
The restrictions and policies of the three-week shutdown are shown to be necessary and will help stop the spread of COVID-19 in the state of Nebraska. Residents are asked to stay home, stay safe, and stay healthy.
Leave a Comment
About the Contributor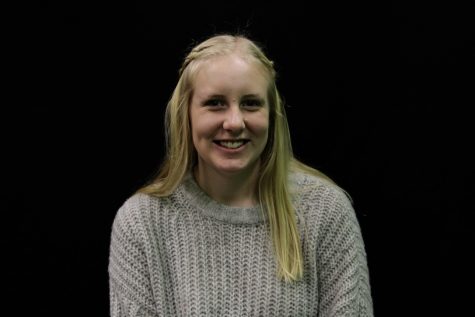 Avery Swanson, Staff Reporter
Avery Swanson is a freshman at GHS and this is her first year on the Vanguard Magazine Staff. She serves as a reporter to the magazine. She is in journalism...