Cleared For Takeoff
Senior Successfully Completes First Solo Flight
Successfully piloting an airplane is one of the most complex tasks in the world. A feather of touch on the controls or a flick of a switch could be the difference between life and death. It is a feat only accomplished by two out of every thousand Americans, yet on April  4, 18-year-old senior Cole Dostal took off and landed completing his first solo flight, an important step in his pilot training process.
Q: What exactly is a solo flight?
A: The first solo flight is the first flight for a student pilot by himself/herself in the airplane. In order to solo, you have to have your student pilot's license (You must be 16 years old to obtain your student pilot license), a third-class medical certificate or better, and another form of identification such as a driver's license. To complete my private pilot license under the Federal Aviation Regulations (FAR) Part 61, I will need to complete 10 solo hours. Five of these flight hours will be in the traffic pattern or practicing flight maneuvers in the practice areas, while the other 5 hours will need to be cross-country flights (One of these flights will have to be over 150 nm with at least one leg over 50nm)(Flights with a different destination than the airport that you took-off from).
Q: What kind of plane did you fly?
A: I flew the Cessna 150L (Type Code: C150) owned by Advanced Air Council Bluffs. This is a two-seater single-engine airplane utilized primarily for flight training. The tail number (identifier) is N140MA and is nicknamed "Flying Mav," as the plane is commonly used for the University of Nebraska at Omaha (UNO) for their flight team. Since it is used for UNO's flight team, the plane is painted red and white.
Q: What airport did you use?
A: The airfield that I took-off and landed at was the Council Bluffs Municipal Airport (CBF/KCBF). This is a private airfield used primarily by Advanced Air for flight training and other recreational aircraft. This airport sits within Class Charlie airspace, therefore we generally contact Omaha Approach (124.5 MHz) because the airspace can sometimes get busy. However, the airport itself is a Class Echo airport, which means that we use a Unicom frequency to communicate our position and intentions to other pilots in the area. At times, the Council Bluffs airport does get busy and we will have a lot of traffic in the pattern.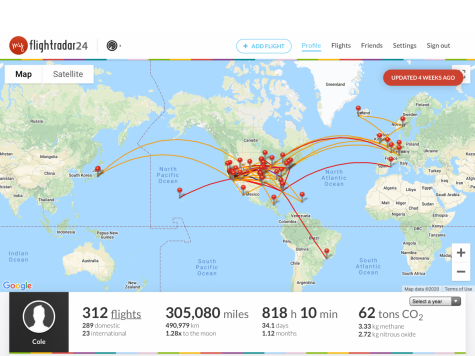 Q: Were you worried that you were going to crash?
A: Like most people, I was nervous about going into my first solo flight. It was probably even more nerve-racking for my instructor as he has to sign the endorsements for me to take my first solo flight and was watching the whole thing. My biggest worry going into the flight was making sure that I did everything correctly and performed at the right ratio of checking my instruments and watching for outside traffic. Also keeping track of all the traffic by yourself was a concern with me because you are doing so much by yourself in the cockpit and with the addition of people talking over the radio adds to your concerns. However, we would not have performed the flight if both my flight instructor and I were not confident with my abilities to handle the plane in the traffic pattern.
Q: Was there a button or module that you thought was difficult to figure out?
A: There is not necessarily a most complicated button in the airplane, it is mostly remembering what to do and at what moment during the takeoff and landing to do it. If there was a more complicated portion of the flight that I was worried about, then it would be putting the carburetor heat on. The carburetor heat is used at lower rotations per minute (rpm) to prevent icing in the carburetor that can lead to a rough-running engine and decreased performance. The reason why this was a concern for me is because the carb heat lever is next to the throttle and mixture. If you accidentally pull out the mixture instead of the carb heat, then it would make the engine cut out. This is as the mixture is what controls the fuel: air mixture for the engine to perform properly.
Q: What activity would you compare flying a plane to? Driving a car or making a sandwich? If you had to say it was like something what would that activity be?
A: Flying these small planes is relatively similar to driving a car, only with an aerial aspect to it. Like driving, you have to make sure to abide by rules and regulations published in the Federal Aviation Regulations. It does have a repetitive process where one needs to be constantly aware of the situation and communicate your location and intentions to other pilots and Air Traffic Control (ATC).
Q: Did you have family there to watch, what was their reaction?
A: Since this first solo flight took place a couple of weeks into the pandemic (April 4, 2020), some of my family decided to come and watch my first solo flight. My dad, and two of my younger siblings and my grandma came to watch the flight. Like most people during this pandemic, they kept their distance from other people and my grandma was wearing a mask. After the flight, I took a picture with my grandma six-feet apart from her. They were excited about me flying a plane as they know that it is something that I have looked forward to doing for several years. After landing, they congratulated me, and my siblings sat next to me in the airplane to take a couple of pictures.
Q: What was the coolest thing you saw while in the air?
A: While on your first solo flight, you don't really recognize what is going on outside the plane since you are doing so many things by yourself. However, watching other aircraft and other people go about their daily life is something really cool that you recognize from the air.
Q: Is being a pilot something that you see yourself doing in the future?
A: Hopefully, I have become a pilot after my first solo. But if your question is that I will eventually work in commercial aviation, then the answer is yes. My current intentions are to attend the University of Nebraska at Omaha (UNO) and if I pursue an Aviation Degree in professional flight, then I will do the remaining flight training Part 141 and receive my Restricted-Airline Transport Pilot license (R-ATP meaning that I can get hired at the airlines once I receive 1,000 total hours); or I can pursue a different major and be hired at the airlines by 1,500 flight hours. The process to receiving you Airline Transport Pilot license (The license to work for the airlines, Envoy, American, Delta, United, etc.) you must have completed you private pilot license (Approximately 40 hours), your instrument license (Approximately 40 hours), and your commercial license (Total of 190 hours for part 141 training, or a total of 250 hours for part 61), then you must reach either 1,000 hours or 1,500 depending on your ATP to work at the airlines. Most of them prefer a bachelor's degree, so I will probably get one.
Q: How was this experience affected by the ongoing pandemic?
A: A couple of days leading up to flight we were informed by state governors and other local officials that we would not be returning to school for the remainder of the year. This meant no spring sports, no prom, and the possibility of not having an actual graduation. Up until those final two months, everyone dreads every day of going to school. For many of us seniors, it was disappointing that we would not get the chance to say goodby to our friends or having all those final moments in high school before moving onto the next chapter of our lives. At that point in time, I realized that my first solo flight might be that final memorable moment before going onto college since we had the final memories of high school stripped from our lives. The first departure leg had the most symbolic meaning to me as I knew that I was taking off into the next chapter of my life since there would no longer be spring sports, a senior prom, or the possibility of a high school graduation. Once you get into the air by yourself, you have this whole different feeling of being liberated from the ground and leaving everything from our fast-paced lives behind us. You also view the world from a whole different perspective and see things from a different point of view. Right now, everything for seniors is a disappointment, but the pandemic will be something to laugh about 20 years down the road that we can share with our family, friends and children. After parking the plane on the ramp, I was greeted by my instructor, my dad, and my little siblings. Getting out of the plane was one of the most rewarding feelings, a feeling of accomplishment knowing that you flew the plane by yourself for the first time. There are very few flights that a pilot remembers, but your first solo is always kept as your number 1 favorite and memorable flight.
Q: Are you going to trust commercial airline pilots now that you have flown a plane?
A: I have always trusted commercial airline pilots, there is a lot of work that they put into their career to make sure passengers get to their destination efficiently and safely as possible. There are things that they do to stay current and yearly simulator checks to stay proficient with emergency procedures.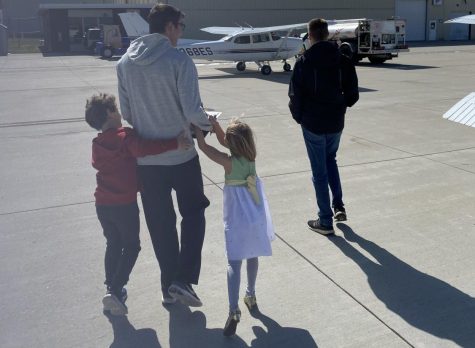 Leave a Comment
About the Contributor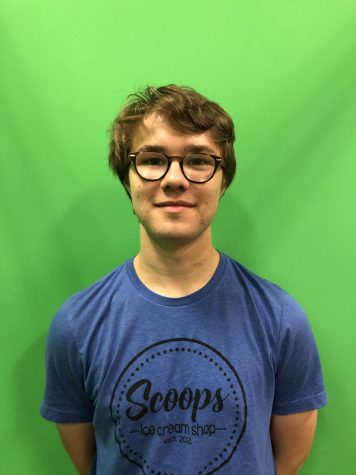 Zane Mrozla-Mindrup, Staff Reporter
Zane Mrozla-Mindrup is a senior at GHS and is continuing into his fourth year on The Voice Staff. He serves as the News Editor. He enjoys being in journalism...