Then and Now
History, Growth of Social Media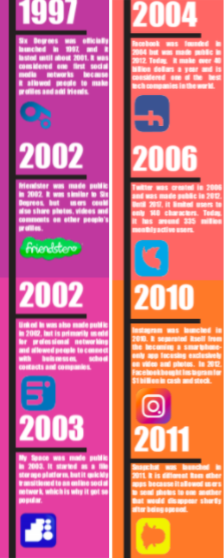 It is impossible to think about what life would be like without social media. Until about 1997, the first social media site Six Degrees was founded. Forms of communication continue to grow and become more valuable in an individual's everyday life. 
According to History Cooperative, "Just under 70 percent of Americans, and more than 2.6 billion active users globally, use social networking sites."  
Social media has become more frequent and present in society. Many use it to connect with friends, family, to catch up on current events and for entertainment. Apps like Facebook have been used since 2012 when it went public.
According to History Cooperative, "Facebook received a valuation of $104 billion, making it one of the highest IPO valuations of all time. It currently generates over $40 billion a year in revenue, and it is considered as one of the most important tech companies in the entire world."
In 2010 Instagram was entering the world of social media as well. Instagram was different than the other social media platforms simply because it was for smartphone use only and primarily focuses on photos and videos. Students like freshman Lillian Hydeen uses it to stay connected to people.
"I think Instagram is very relevant in our society because it inspires a lot of trends and people get other ideas on what other people are doing for fun," Hydeen said. "I have had Instagram for about 2 years and I use it about three or four times a day. I think a lot of teens use it because it is a way to stay connected to people and see what everyone else is doing if you are not with them all the time."
Shortly after in 2011, Snapchat was becoming a commonly used smartphone social media app as well. The difference between Snapchat and Instagram is that Snapchat chats can only be viewed once and Snapchat stories are temporary and only last a 24 hour period. Although Snapchat was made public in 2011, junior Kate Sallee has had it since 2015.
"I use Snapchat to send funny pictures to my friends and it is a simple way to communicate with a mass of people," Sallee said. "It is also an easy way to meet new people at your school or to start new conversations with people through Snapchat. So yes, I would recommend it to people. In a day I probably open Snapchat 200 times a day." 
Ultimately, social media has evolved over multiple years and still continues to grow. Social media is something that will not be slowing down anytime soon. This form of communication is a way to connect to people in ways never thought possible.